The Ultimate Sports Social Media Job with Xfinity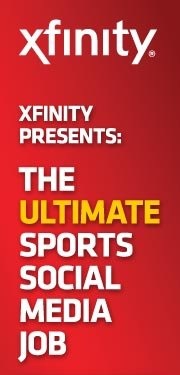 In case you didn't know, I'm a big social media advocate. I love what it can do for people and business alike, creating content, conversation and active communities. In turn, when I see unique opportunities and promotions based around this space, I love to share them here, which bring me to the "Ultimate Sports Social Media Job" program created by Xfinity.
Here is a quick summary of the contest and what the winner can receive:
"Comcast's Xfinity Service is launching a contest to hire an individual who will serve as the new voice of Xfinity in the sports social media space and go behind-the-scenes at some of the biggest nationwide sporting events in 2012, sharing exclusive insights and updates with fans. The contest, entitled "Xfinity Presents: The Ultimate Sports Social Media Job," runs from January 13 through March 25 in search of the next sports social media star."
"The winner will receive a one-year salary and will be responsible for tweeting from the @XFINITYSports Twitter handle on continual basis,  reporting live from premier sporting events throughout 2012, and educating and engaging avid sports fans in social media communities. In addition to live event access, the winner will also receive all the electronics for the ultimate sports pad, including televisions, home audio/video equipment, etc."
Anyone who is interested can apply through their Facebook page at Facebook.com/Xfinity. You have to share a video (up to 2 minutes) pitching why you're the perfect person for this role based on your knowledge and passion for sports, social media and Comcast (after all, the winner will be working for them!). The top entries will be featured on this page and voted on by fans, with the top 5 advancing to the finals. These lucky five will get a trial run covering a premier sporting event in early March, and then a panel of celebrity judges will make the final decision on a winner who will get to travel to and cover some of the biggest sporting events for an entire year.
So, if this is your ultimate sports and social media dream job, make sure to enter ASAP. Also, if you are a reader of this blog and decide to apply, please let us know in the comments so we can check out your entries. I'd love to throw my support behind one of our fans, sharing your entry on the site and in the newsletter. Good luck!