The Best Route to Getting a Job in Sports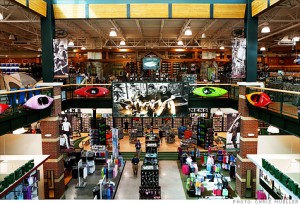 Today's post is courtesy of guest blogger Dave Fogelson.
In all likelihood, people aspiring to "work in sports" are over-looking the sporting goods industry, particularly the retail end of the business, as the starting point for a career path. Retail is where people seeking entry-level jobs can find the most opportunities to apply their sports interest and knowledge and acquire invaluable, real world experience.
The $52 billion sporting goods industry is home to some of the most recognizable and iconic consumer brands and biggest names in retailing. National chains like Dick's and Sports Authority, regional stores such as Modell's and Hibbett, specialty retailers in the team sports, golf, running and outdoor segments and many other brick and mortar and on-line outlets have an on-going need for people who either have or can acquire product knowledge and possess a commitment to customer service.
Working the past two years as a retail sales associate at a sporting goods chain, I've influenced more sales than during the combined 13 years I spent as the head of public relations for two athletic footwear and apparel companies. I oftentimes think about how much more effective I (and most of my corporate colleagues) would have been in our brand marketing positions had we possessed some of the insight that comes from working retail.
So, what knowledge, experience and skills can you expect to acquire at retail that can help you land that "dream job" in sports?
–  Selling and business development:  Every organization in every industry needs people oriented to generating business. Sporting goods retail associates play the critical role in the space known as "the last three feet of the sale." It's the epitome of missionary salesmanship and not merely order-taking.
– Product knowledge:  Having the capacity to understand and embrace the features and benefits of the products/services you represent is essential to any job you're likely to perform in sports marketing. A product or service's unique selling proposition is the foundation of an effective marketing campaign.
– Listening and communicating:  Having acquired product knowledge, the ability to apply it by listening to customers, understanding their needs and clearly and concisely communicating the features and benefits of products that meet their requirements creates more business for your employer now and in the future. Aren't the majority of (if not all) sports marketing programs predicated on building and sustaining customer/fan loyalty to the sponsor's brand and products?
– Prioritizing and working the plan:  In addition to dealing with customers, retail associates handle a myriad of responsibilities. From organizing inventory to merchandising product displays, many balls must be kept in the air simultaneously. The ability to take on and handle multiple assignments is one of the hallmarks of a successful sports marketer.
– Working (well) with others:  Working retail requires flexibility, a willingness to pitch-in whenever and wherever situations demand and a thick skin. Among managers and sales associates, retail's "we're in this together" mentality is comparable to the work environment and expectations you'll encounter throughout the sports industry.
– Understanding what truly resonates with customers:  Retail (the Place) is where the rubber meets the road for the other three "Ps" – Product, Promotion and Price. Working retail provides insights into what truly motivates consumers to part (or not part) with their cash for products and services. People with this insight are better able to create and conduct more targeted sports marketing campaigns that utilize brand resources more efficiently and effectively.
With this knowledge and experience, in tandem with your educational background and special interests, aspiring sports business executives are in a much better position to pursue and secure more rewarding positions of greater responsibility.
If your heart is in retailing, there are corporate level positions as a buyer, in merchandising, operations and marketing.
If retailing isn't for you, brands across the spectrum of the sporting goods industry need people in product development, marketing and sales who've experienced first-hand how consumers and retail sales associates respond to product features, advertising and promotional campaigns and price promotions.
Non-sports brands that sponsor sports along with their agency partners need people who've experienced at the retail level how event sponsorships and athlete endorsers can be leveraged with the consumer to generate sales and create brand loyalty.
The retail environment isn't glamorous and can be down-right difficult. The challenges you're likely to encounter at retail, coupled with the modest compensation, are best surmounted by taking a broader view and looking at the time and energy you're spending on the sales floor as a means to a greater end.
In the majority of instances, the investments brands make in product development and marketing are greatly diminished absent the sales associate creating connections for the product and brand with consumers. Creating these connections is the stuff with which attention-getting resumes are built.
Within this context and keeping in mind your career aspirations, every retail floor assignment, no matter how mundane, every customer interaction and sale you generate have greater significance. Leverage this experience and the insights you've gained in your ongoing communications with the organizations you've identified as prospective employers and networking with industry contacts.
Dave Fogelson is the former head of public relations for adidas USA and Reebok. He's also held public relations positions with The Miller Brewing Company, Pan-american Sports Network and Sharp Electronics. For the past 2-1/2 years, he's served as an athletic footwear and golf sales associate at a major sporting goods retail chain.