New Name for the Big East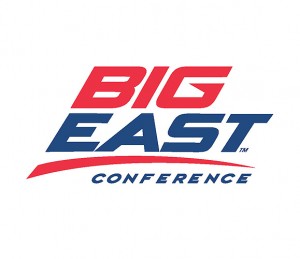 Over the past week, there have been several news stories discussing the Big East Conference's attempt to add additional football programs in order to maintain their automatic qualifying status with the Bowl Championship Series. While the conference's current structure had been dictated primarily by geography (the "East" coast), their current efforts are focused more on the caliber of program than a program's physical location. Their current targets would lead them to Idaho (Boise State), Colorado (Air Force) and Texas (SMU and Houston).
If these programs decide to accept their current/eventual invitations to the join the conference, it only seems logical that the conference should change it's name to reflect their new geographic expansion. Some suggest simply creating western and eastern divisions, but even with that structure, it still seems a tad silly for the conference to use the term East when playing in Idaho and Colorado.
So, I'd like to come up with some suggestions for the Big East, "crowdsourcing" some naming options if you will. I posted the question on Twitter yesterday and got the following suggestions:
From @TamaraJoleeTV – America Football Conference: AFC East / AFC West…
From @SportsLoop – STSS Conference–Sea to Shining Sea
From @NateThompson_ – Conference USA (Editor's Note: taken for now, but it could open up if C-USA and the MWC merge)
From @tonymagnelli – How about "The Empire" because the sun never sets on The Empire Conference.
From @mBLASzKa – Big Country
From @PioneerPlanner – The Big Best of the Rest (EN: I somehow think they might not like this one)
Some other options could be:
Continental Athletic Conference – Too bad Continental and United merged, or this would be a great sponsor tie-in
United Athletic Conference – I guess the sponsor connection could still work
Great American Athletic Conference – Everyone loves patriotic branding
Have any other ideas? Please share them here, and maybe if we get the Big East's attention, your suggestion could become their new name one day soon.