The Fan Experience with Cisco and Verizon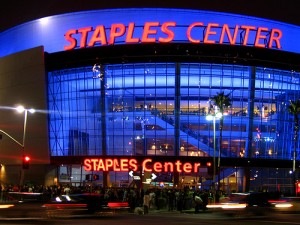 Earlier this year,  David Holland, Senior VP, Sports and Entertainment Solutions Group at Cisco, wrote a guest post called "You've Come a Long Way, Baby" that discussed how emerging technology continues to improve the fan experience. So when I received information about a partnership between Cisco and Verizon at AEG's Staples Center, I thought it was definitely worth sharing.
The premise behind the Cisco StadiumVision partnership is to leverage digital video technology build by both Verizon and Cisco, to provide a more interactive experience for fans in the building, while making information on stadium amenities and services more visible. At  the same time, this technology can provide additional sources of revenue tied to targeted digital delivery of sponsor and partner assets across more than 375 interconnected HD displays in suites, stands and concourses.
Here are more of the details, courtesy of their joint press release:
In the luxury suites, Cisco StadiumVision further personalizes the event experience by allowing fans to customize their view of the live game or show below, or switch to other channels of premium HD content, by simply changing the channel via the Cisco touch-screen Unified IP Phones in conjunction with Verizon voice-over-IP service. In the future, fans will also be able to order concessions and team merchandise for delivery to the suites using the touchscreen on the phones.
With constantly changing games, teams and events, one of the keys for STAPLES Center is the flexibility of the technology being delivered by Verizon and Cisco. The entire color scheme, content and branding of the venue can be done with the push of a few buttons, and this is proving exceptionally valuable at the concessions stands where dynamic menu boards can easily be updated with new menu items and pricing.
AEG is already seeing a strong return on its investment evidenced by results from the early deployment of digital and dynamic menu boards at the refreshment stands. For example, in March AEG saw a 9% increase in revenue (year over year) from concessions for Los Angeles Kings games. Even more impressive was the 400% increase in revenue (year over year) from select pilot promotions offered for the Los Angeles Sparks games this season.
According to James Timmons, vice president of global enterprise sales for Verizon Communications, "Designing and implementing technology solutions that cater to the individual consumer, as AEG has done with STAPLES Center, is a successful model for other venues to adopt.  Together with Cisco, we're helping to create a game-changing experience for fans and new business opportunities for STAPLES Center partners."
Technology partnerships like this one are a key component to maximizing the in-venue experience. With more and more advantages in digital displays, data delivery and interactive content, I expect you will continue to see teams and arenas implement similar programs, hopefully topping each other with more features and benefits for the fans each time.