Three Questions About College Football Conference Realignment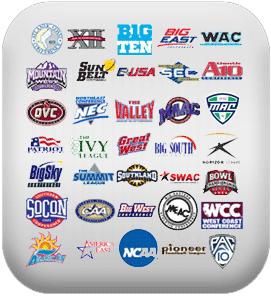 Three More Questions About College Football Conference Realignment: From a Non-AQ Point of View
Under consideration: the current landscape of college football's conference affiliation and the direction of realignment. Last year we saw Utah and TCU get the nod from the 'big boys' to come play for the lion's share of BCS money. In addition, we saw Boise State, Nevada, Hawaii, and Fresno State make small steps toward becoming legitimate post-season contenders. While Utah and TCU have used their success in big games to make the move to BCS conferences, teams like Boise State, Hawaii, Nevada, Houston, and others are still doing their best to prove themselves worthy in the BCS era. It's unclear how conference realignment will play out, but as outsiders, Non-AQ schools face a different set of issues that are often overlooked when dissecting the BCS breakdown.
1. Do Super Conferences Provide Any More Stability to the Current CFB Landscape?
Although initial talk about conference realignment was fun and exciting, it's quickly become one of stress and anticipation – not only for students and fans, but administrators and conference management as well. We've decided, as college football fans, which conferences are most powerful and in the best position to add schools to their ranks. It has been decided by ticket and merchandise sales, television viewers, and, unfortunately, the BCS system.
When coupled with Super-Conferences, these factors provide even more economic and political power to conferences that have already become staples in the college football arena. The fact is, Super Conferences do provide more stability for those conferences that already enjoy the benefits of the BCS stage. The Non-AQ schools, however, have an even more tumultuous road ahead of them. Consider the possibility of a Non-AQ school getting an at-large bid above a BCS conference that has multiple no-loss or one-loss teams – pretty unlikely, right? That doesn't mean the Non-AQs would miss out on all potential BCS earnings, but this could dramatically decrease the slice of pie these schools have access to. You know the implication of this: less money equals further separation in program facilities and recruiting ability, etc., etc.
2. Which Non-AQ Schools Have the Opportunity to Make the Move to a BCS Conference?
This is an interesting topic – do any current Non-AQ schools deserve the chance to play in a BCS conference? Obviously, yes. Utah has already made the jump and TCU is poised to do so next season; albeit to a somewhat depleted Big East. The other obvious choice would be Boise State, but will population-base and television ratings hold Boise and other elite Non-AQ programs back?
3. Is it All About Television Viewers and Population-Base?
Yes and no. To the big conferences currently looking to add teams, television-market-size, fan-base, stadium seating, and academic standing fall in line as some of the most important considerations for conference realignment. But many of these conferences are looking past high potential, expanding, Non-AQ markets in an attempt to steal bigger fish from competing conferences. Look no further than the PAC-12, in discussion with OU and Texas for a potential conference scenario that makes no sense geographically, or economically, for current members.
A closer look at national fan-base and potential to build a conference a bit more organically might lead to a BCS conference extending an offer to a team like Boise State. Boise State, whose TV market and alumni population don't offer much 'wow-factor' for BCS conference addition, do have quite an impressive national following. A recent NY Times article shows Boise State's national following at about 500k, which is more than nearly half of the current PAC-12 members can claim. In addition, the city of Boise continues to be one of the fastest growing television markets in the US. Other schools like Houston, UCF, and ECU could all make very similar arguments for inclusion. Are these numbers enough to prove worthy of a BCS conference invitation? It's yet to be seen!
Brett is a writer for CableTV.com. He typically writes about business, entertainment, and sports. You can follow him on Twitter at @BrettDrive.