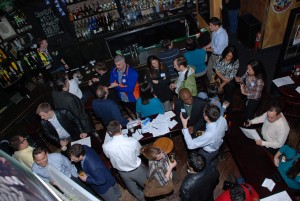 I am excited to announce that we're bringing our networking events back to Texas, specifically the Dallas/Forth Worth area!
The Business of Sports – Dallas Networking Event
Wednesday, September 7 at Hully & Mo's (2800 Routh St, Dallas)
Open networking from 5:30 to 8:00PM
Free to attend, all backgrounds welcome (No resumes please!)
Special thanks to Brian and Brandi Connolly, Jamie Acks and Tom Scovic for making this event happen.
Our goal is to create a regular series of sports business networking events in as many major markets as we can. They provide great opportunities for sports professionals on all levels to connect with other like-minded individuals and build up their professional network. Our feedback continues to be tremendous, so we will keep seeking out new locations and new ways to help support this wonderful community. We hope to see as many of you as we can at one of these events very soon!
Also, please check out the photo gallery from our last New York event, courtesy of VenuesToday.com.