Denver Nuggets Fan Features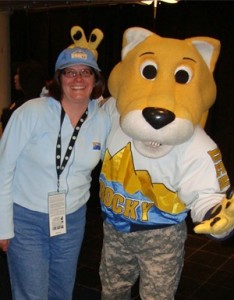 A lockout is never a good thing for an organization. The stress it creates can have a long-lasting impact on the relationship between the team and its fans. As such, it's very important to find a way to foster that relationship as much as possible while the labor issues are addressed.
The Denver Nuggets have taken the approach during this time to create Fan Features on Nuggets.com. According to the team, they will feature a different fan each week for at least three months, and maybe longer. The features will cover a mix of long-term season ticket holders, top group leaders, and even new buyers, highlighting their experiences being Nuggets fans.
The first profile went up about a month ago and featured 36-year season ticket holder Brian Dyet. You can read his profile here, or check out the most recent profile of Cheryl Burger (seen on the right), and scroll down for links to all their fan features to date. All fan features are also promoted on the Nuggets Facebook page and other social media outlets.
These features serve multiple important functions, including:
Rewarding the team's most valuable customers
Building goodwill during a tenuous time
Create some that other customers can aspire to be a part of
Generate positive content to drive visitors back to the team website
Potentially generate sales interest from fans that relate to the fan features
Content like this is a great tactic to use not just during a lockout, but year-round. I wouldn't be surprised to see the Nuggets continue this feature once the lockout is resolved. This type of fan-focused content can also extend beyond the website to things like yearbooks, programs, dedicated social media content, in-stadium features and even the physical tickets (several teams in the NFL used fan images on tickets this year).