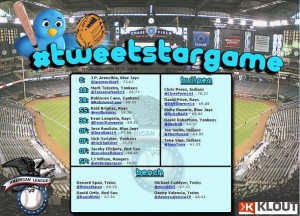 Today's post is courtesy of guest blogger Caleb Mezzy.
Playing OF for the AL in this year's #TweetStarGame, leading the league with a Klout score of 77.80, @JoeyBats19……
We've seen the recent activity and popularity of many of our favorite players on Twitter. I'm sure, by now, you have favorite players to follow based on their funny tweets or inside information.
However, have you ever thought about how influential the player is on Twitter? You can see their followers, their following and their tweets, but who is the best MLB player on Twitter to follow?
On July 6, I launched #TweetStarGame. The idea was to combine Klout with my love for baseball and Social Media. I wanted to see which player had the highest Klout score. On Klout.com it states: "The Klout Score is the measurement of your overall online influence. The scores range from 1 to 100 with higher scores representing a wider and stronger sphere of influence. Klout uses over 35 variables on Facebook and Twitter to measure True Reach, Amplification Probability, and Network Score."
We wanted to find the best MLB players on Twitter at each position for both the American (AL) and National (NL) League. You'd be surprised at the scores we received and who is starting, on the bench, or flat out just didn't make the cut!
Major League Baseball teams could use something like the #TweetStarGame as a positive way to gauge their players' influence on fans. The most appealing thing in social media is your total outreach. These players are able to influence and engage with their fans all over the world. Klout helps to measure this for the individual players, and teams are also able to see their own organizational Klout score.
There are many teams in which their players have happily adopted social media and are using it wisely. The Yankees, Rays, are among the leaders in the AL and the Indians even have #BullpenMafia as a popular hashtag with their bullpen pitchers being popular tweeters. In the NL,  we've seen a recent rise in the Phillies' players and a steady involvement with the Pirates and Marlins.
As Klout is a measure of online influence it is important to note a few moments that have caused MLB tweeters' influence to rise. Here are a few instances:
@HeathBell21 made the NL Bullpen in #TweetStarGame right after his grand entrance with a slide in the MLB All-Star Game
Players like @HunterPence3 and @CarlosBeltran15 saw a rise in trade talks as they were welcomed by their new teams graciously using their handles. This led to more mentions and followers.
Other players like @thisisdspan and @mcuddy5 received an increase in influence due to potential trade talks. Although Denard Span and Michael Cuddyer were never traded, their names wer frequently mentioned.
Other tweeters new to the game of Twitter always see a significant spark in their Klout score. This is evident in Phillies' Rookie Vance Worley (@VANIMAL_49) who started his Twitter career last week and is now seeing time in the #TweetStarGame bullpen for the NL.
The scores will update once a day. I encourage all of you to voice your opinion using #TweetStarGame. You can post comments on my site (see Caleb's original blog post here) and use #TweetStarGame to congratulate the players (their handles/Twitter pages are linked) on their deserving spot in the #TweetStarGame.