What Makes a Successful Salesperson?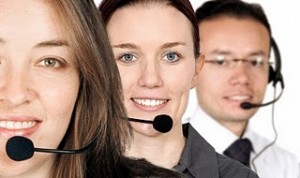 Today's post is courtesy of guest blogger Dr. Kirk Wakefield and was originally published in Volume 7, Issue 4 of the Migala Report. The Migala Report was launched in October 2003 to create an educational and idea-sharing resource for sports executives pursuing revenue-generating concepts. To subscribe, please visit www.MigalaReport.com.
Do great players make a coach great? Or do great coaches make players great?  Either way, all else equal, anyone of us involved in recruiting would rather start with the best personnel we can find for our rosters. Since mistakes in recruiting can cost a coach his or her job. We want to know what traits, skills, and experience are necessary to perform at the highest levels, so we know what to look for and how to effectively coach top performers.
What makes a successful salesperson? To find out, we examined the characteristics of ticket and sponsorship salespeople across eight professional sports teams on the advisory board of the Migala Report, who also serve as advisors to Baylor University's Sports Sponsorship & Sales program. The results, which did not differ whether ticket or sponsorship salespeople, confirms and extends what we know about the characteristics of successful salespeople.
Five characteristics differentiate strong from weak performers in selling for sports organizations. Each is a significant predictor of sales generated for the organization, but of varying importance. In terms of the influence on actual annual sales revenue, the top five characteristics, in order:
Adaptive selling skills
Sales training
Goal clarity
Dominant behavioral style
Experience
We begin with number five and work our way to the most important characteristic leading to success in selling in this industry, adaptive selling.
Experience:  Since success in selling is based upon commissions and bonuses, individuals who sustain longer careers have clearly produced sales in the past—or else they wouldn't have a job. So, experience as measured by years in the position (within the team or within the industry) will always offer a clue as to future success. Yet, it's important to note it is the least important of the five characteristics. While experience definitely helps in this industry, some organizations may weigh this factor more heavily if they have less ability to discern the next four more important elements of successful salespeople.
Dominant behavioral style:  The DISC behavioral style assessment tool is growing among sports and non-sports organizations alike to evaluate sales candidates and is also used as a sales management tool. The DISC Behavioral Style Assessment requires individuals to complete a psychological battery of items describing the way one interacts with others in work settings. The emphasis is on behavior, not temperament or personality. The chart below offers a brief summary of the four behavioral styles, based on work conducted by TTI Performance Systems, who assisted us in our studies.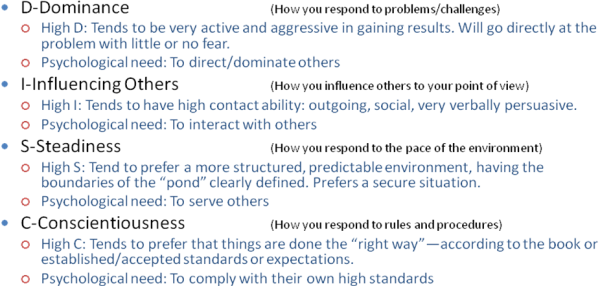 Our results in studying sports salespeople, as well as real estate salespeople, reveal that individuals who are "High D's" are more successful than low D's. Furthermore, higher levels of the other DISC traits are not associated with successful salespeople. In fact, individuals with high "S" scores may do very well in customer service positions, but fare poorly in sales positions due to inability to close.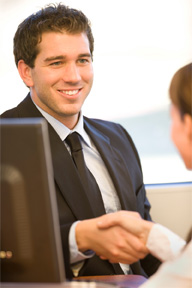 Goal clarity:  To be successful, salespeople must know what is expected of them. Compared to poor performers, successful salespeople:
Know exactly what output is expected.
Have clear and unambiguous performance targets.
Have a clear, planned set of goals to achieve the objectives.
Goal clarity is a function of sales management effectiveness and the individual salesperson. Driven salespeople are goal-directed, so even when management is vague, the individual will still establish goals. Of course, the problem is these goals may not be consistent with management's goals. Consequently, the best scenario is when the sales manager works with salespeople to establish agreed upon goals for the position.
Sales training:  The level of sales training provided varies considerably across professional and collegiate sports. Compared to Corporate America, sports franchises could stand to improve sales training. In complex buying contexts involving large dollar expenditures, corporations may invest anywhere from six weeks to two years in training salespeople. One of the reasons sports franchises may not see the value of such sponsorship sales training is a lack of understanding or appreciation for the complexities with which major corporations evaluate and manage brands.
In a general sense, effective training can be measured by understanding the extent to which the sales staff clearly understands:[1]
How to interact with customers.
How much service to provide customers.
How to behave with customers while on the job.
How to handle customer objections.
How to handle unusual problems and situations.
How to deal with customers' criticisms.
Which specific strengths to present to customers.
Which specific benefits to highlight for customers.
Organizations that highly value training ultimately invest in their own bottom lines, as the level of training was the second strongest influence on salespeople's earnings in our study.
Adaptive selling:  The strongest influence on performance is adaptive selling, defined as "the altering of sales behaviors during a customer interaction or across customer interactions based on perceived information about the nature of the selling situation."[2] The top performers in selling sports, or just about anything else, will:
Use a unique approach for each customer.
Easily change to another approach if the current sales approach is not working.
Experiment with different sales approaches.
Be flexible in selling approaches, not stuck on a set approach.
Find it easy to change presentation style to fit the buyer.
A key component in adaptive selling is confidence in one's selling abilities, or the personal belief in being capable of organizing, executing, and evaluating the right course of action in the sales context. Not so much confidence or self-esteem in a general sense, but confidence in one's sales skills. We all know people with plenty of confidence, but that doesn't mean they have good adaptive selling skills.
Adaptive selling skills fit hand-in-glove with a partnership approach to selling. Adaptive selling, also referred to as consultative selling, focuses on offering a unique selling proposition attuned to the buyer's needs. Our research also indicates adaptive sales skills are highly correlated with sales training, High D behavioral styles, and experience. Hence, the best salespeople are both born and bred—pointing to the importance of both recruiting and coaching.
Dr. Kirk Wakefield is the Executive Director at Baylor University's Center for Sports Sponsorship & Sales, and serves as editor of The Migala Report published by the Center.
[1] Singh, Jagdip and Gary K. Rhoads (1991), "Boundary role ambiguity in marketing-oriented positions: a multidimensional, multifaceted operationalization," Journal of Marketing Research, 28 (August), 328-38.
[2] Spiro, Rosann L. and Barton A. Weitz (1990), "Adaptive selling: conceptualization, measurement, and nomological validity," Journal of Marketing Research, 27 (February), 61-79.