You've Come a Long Way, Baby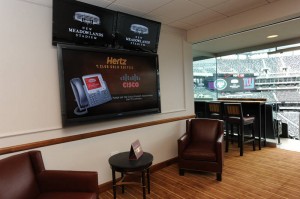 Today's post is from guest blogger David Holland, Senior VP, Sports and Entertainment Solutions Group at Cisco.
When Dr. James Naismith was trying to keep his gym class active during a rainy day in 1891, and invented a game with two hoops and a ball, no one outside that gym was able to watch this game (later named) basketball.
When the Boston American League baseball club was pitted against the Pittsburgh Pirates in the 1903 World Series, many fans had to wait until the following morning to learn from their local newspaper which team had come out on top.
When the first Super Bowl aired on television in January of 1967 from Los Angeles Memorial Coliseum, if you were away from your television set – you were completely removed from all of the action. Checking the score on the Internet or watching a video clip on your phone, were simply not possible.
Our lives today are evolving in almost every aspect, and technology is helping lead the way – from changing the way we work, to how we access information, communicate and interact. This is also true in the world of sports, where technology is having a profound impact on the way we play. Coaches, for example, use the latest video, training and visualization tools to improve their teams' skills; referees depend on replay technologies to help them make the right calls; and off the field fans now expect ubiquitous connectivity to their sport's most up-to-the-minute information – with no hassle.
An increasing number of today's fans have not only become immersed with the sports information machine, but they also help drive it – from downloading applications on their mobile device to getting the latest score, to watching live streaming video of the hottest matchup – and debating it via social media. Fans live and breathe sports. Technology innovation not only has to keep pace with demands of sports fans, but increasingly is delivering new fan experiences that they may have never imagined possible.
With fan expectations rising, new and existing venues across the globe are upping their game in terms of delivering a memorable in-person experience – and this goes beyond what happens on the field of play. Venues in some ways are competing with 'the couch' for viewers. Fans today have a wide array of viewing options to choose from in the comfort of their home. High definition TV, digital video recorders, computers, and now even smart phones, tablets and other Wi-Fi devices provide viewers with high video quality, interactive information about the game, and in some cases more choice over viewing angles, etc.
To get more 'butts in seats' and provide fans with more intense sporting experiences, teams and leagues see to the imperative for upgrading the in-venue fan experience. They aim to bring fans closer than ever to all of the action and to have them benefit from real time, relevant information and promotions that make a great game even more memorable.
This next generation fan experience is not only creating and attracting a more loyal fan following, it also has tangible business benefits. Through customized promotional, marketing and branding capabilities, stadiums and arenas can increase profitability by attracting new business opportunities and adding new sources of revenue.
For example, technology today allows sports operators to host more and more varied events. With a few clicks, a stadium can change its entire look and feel on strategically placed digital screens – converting itself from a sporting venue during the day to a rock concert in the evening, to perhaps a trade show a few days down the road. From venue entrances to concourse displays to the clubs and all points of sale (i.e. concession), immersive video and other network-based amenities are delighting fans, and enhancing sports and enhancing the business of sports and entertainment.
The legacy of live sports and entertainment must also be protected. In other words, technology must be built into the fabric of the venue, in such a way that it doesn't get in in the way of the live performance. Whether we are talking about uses of video, networking, fan security, or Wi-Fi connectivity, a successful technology provider works hand in hand with venue owners and operators to make their offerings integrated with the live experience, user friendly and complementary.
Looking into the horizon, fans expectations will continue to evolve. Technology will find even more ways to harness fans desires to be part of sports and entertainment communities. We can't foresee every fan requirement today, but we know having a solid technology platform to drive this evolution is critical. Connected fans will decide what they want. Sports and entertainment properties must be ready to deliver it!
Sports have come a long way. Were he with us today Dr. Naismith would surely be amazed – and hopefully delighted – to see how his game with two hoops and a ball is having its impact on so many today.
David Holland serves as Senior Vice President and General Manager of the Sports and Entertainment Solutions Group (SESG) at Cisco. In his role, Holland has overall responsibility for accelerating development and adoption of Cisco solutions in the Sports and Entertainment market. Cisco has targeted the Sports and Entertainment industry as a $1B market opportunity, and it is one of the company's top Market Adjacencies.