More NBA Season Ticket Offers
This is a big time of year for the NBA when it comes to season ticket sales. Most teams are finishing up their current season ticket holder renewals and ramping up for new business. Last week, I wrote a bit about a unique positioning the Golden State Warriors were using to help sell and renew season tickets, but every team has their own approach to season ticket sales. So here are a few more fun examples from other NBA teams:
Minnesota Timberwolves and Houston Rockets – Pay the Pick Pricing Plans: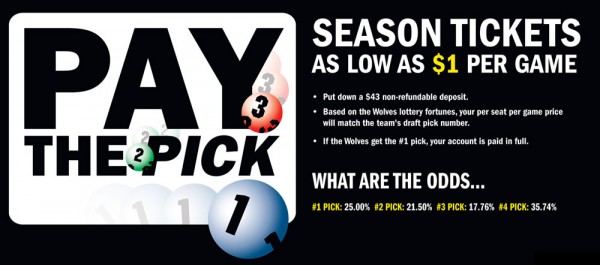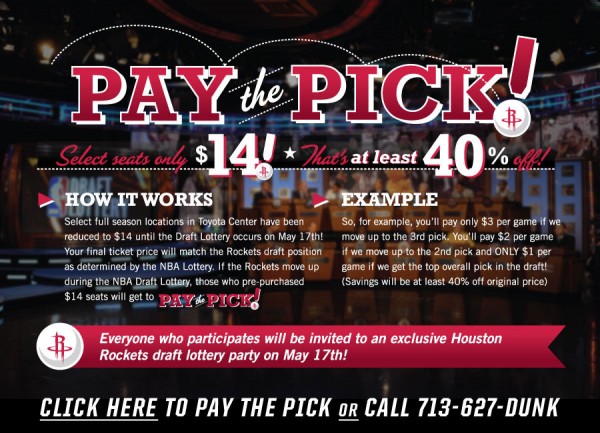 Detroit Pistons – Renewal Website, featuring benefits based on tenure and payment date, including:
Free Parking and Piston jersey (potentially with autograph)
$50 to $150 in Palace Gift Cards
Complimentary club passes and a suite for a game
Referral rewards equal to 3% of the new season ticket holder's purchase
Charlotte Bobcats – Buy 2 Get 2 Free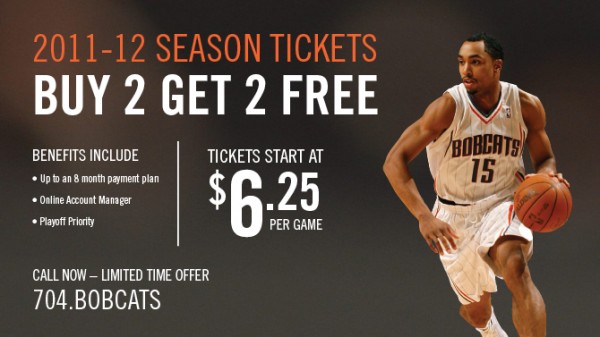 Memphis Grizzlies – Playoff Access for This Season
While playoff access is always a benefit for season ticket holders, the Grizzlies are capitalizing on this year's surprise run by limiting access to this year's playoff tickets to current or future season ticket holders (30% deposit required).
This type of offer was used by the New Orleans Hornets (and most likely other playoff teams as well).
Toronto Raptors – Raptors Plus You
The Raptors build an interactive microsite tied to their "Raptors + You" marketing campaign, complete with video highlights, letter from the GM, benefits, payment plans, and information on new dynamic pricing for next season.
In addition, they are guaranteeing their ticket prices for the 2012-13 season as well.
Early Bird Programs – Many teams' early-bird programs have probably ended by now, but a few teams still have them going, including:
New Jersey Nets (features additional 10% savings for early renewal and matrix of additional benefits)
Sacramento Kings (features the chance to get free parking, team store vouchers and extra free tickets)
Washington Wizards (features a 3 year price freeze, replica jersey and 12-month payment plan)