Warriors Season Ticker Holder Contract
Last week, my good friend Isaac sent me a very interesting season ticket sales promotion that the Golden State Warriors are offering. They are calling it the "first official contract between a professional sports team and its fans." While that may or may not be true, the "contract" itself is quite interesting. Take a look at the image below from their website (or click to visit the site).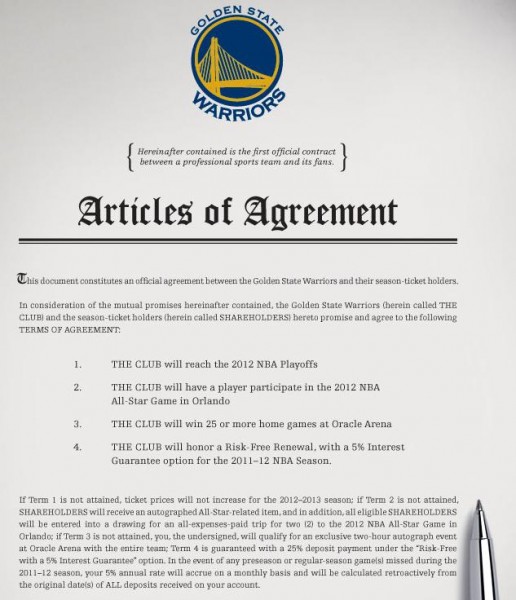 The first thing you notice are their four main promises: reaching the playoffs, having an all-star on the team, winning 25+ games at home and a risk-free renewal with 5% interest (this relates to the risk of games being cancelled because of labor issues). Of course, there's fine print on this agreement, but in this case, the team wants their fans to read the fine print, which reviews a series of incentives that all season ticket holders would receive if the team fails to meet any of their promises. These incentives would be in addition to the other incentives that they are offering regardless of team performance.
If you break this down, it is a pretty standard set of benefits to offer your season ticket holders (a potential price freeze, drawing for a free trip and private autograph session). However, combining these potential benefits with a "guarantee" of team performance is an interesting way to position it. They can simultaneously sell on-court success and unique season ticket holder experiences in one platform.