How the NHL Playoffs are Different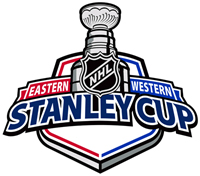 With the NHL Playoffs starting today, it's a great time to look at how the NHL differs from other major American sports leagues in crowning their champion.
National Football League (NFL)
Only 12 of 32 NFL teams make the playoffs each year. At 37.5%, the NFL has one of the lowest percentages of teams allowed into the postseason. Four division winners from each conference automatically qualify, plus two Wild Card teams (non-division winners with the best record). At times, this can make for interesting seeding. In 2011, for example, the Seattle Seahawks won the NFC West with a 7-9 record. They were slated to host the first round matchup against the 11-5 New Orleans Saints, the non-division winner Wild Card out of the NFC South. There was quite an uproar about whether Seattle deserved to host that game, but they quieted  (most of) the critics when they pulled out a 41-36 win.
National Basketball Association (NBA)
In the NBA, 16 out of 30 teams (a whopping 53.3%), make the playoffs. Once those 16 teams are seeded, the bracket will never change, regardless of any upsets that occur.
Major League Baseball (MLB)
MLB doesn't refer to their tournament as the 'playoffs.' For baseball, it's the 'postseason' that determines the champion. Only 8 of the 30 MLB teams (the lowest of all major American sports leagues at 26.7%), make the postseason, often coming down to the very last game, and occasionally needing an extra game as a tiebreaker.
Major League Soccer (MLS)
The youngest of the major American leagues, MLS advances 10 of their current 18 teams (55.5%) to the playoffs. Five teams from each conference are seeded, and while the first three seeds get byes, the #4 and #5 seeds play each other for the right to face the #1 seed. Once the bracket is set, no changes are made to account for upsets.
National Hockey League (NHL)
The NHL may just be the most fair when it comes to their playoff system. While they do allow a large percentage of their teams in (16 out of 30 – 53.3%), teams are re-seeded after each round. What this takes into account, that no other major American league does, is the regular season. A lower-seeded team that didn't perform as well over the course of the 82-game season, doesn't get an easier path to the Stanley Cup Finals just because they upset the higher seed. Kudos to the NHL for keeping the regular season more relevant than the other four leagues.
What is your favorite playoff system? Do any of these five leagues get it right? Should MLS consider going to the European-style of crowning the regular-season champion and forgoing any regular season?
Image courtesy of NHL.com