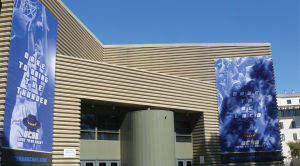 Today's post is courtesy of guest blogger Amy Skiles, SVP of Business Development for Phoenix Design Works.
Branding the building is a process that usually comes after you've branded the team, but actually it presents the first point of engagement with your brand for many of the consumers in your various fan bases.  If indeed, you do plan to allocate resources to utilize your facilities in your branding efforts, it just means that you need to allow a little additional time to go through your primary identity process first, and then proceed to apply your branding program to your buildings or arenas.
But it will be well worth the extra effort, and for those of you who already have your core branding program locked down, you're one step ahead when it comes to branding your building.
Facilities branding also known as outdoor, display, on site, and campus branding, usually consists of banners, video displays, or manipulation of display and construction materials.  Usually there is a hierarchy of usage that dictates the chosen execution.  For example, Banners usually have a promotional or seasonal theme that indicates that they will go up and come down within a certain time frame, while actual manipulation of metal, wood or stone materials would be reserved for a longer lasting purpose, such as delivery of your core logo branding.
Branding for your building can be thought of as the place where your logo meets your ad – it would be a waste of precious marketing resources to produce banners, billboards of any sort of facilities branding program with one and not the other.
Building branding, no pun intended, really is an area that is unique unto itself.  On the one hand, building branding requires more finesse than other lesser, or at least, smaller brand applications, in it's visibility, and on the other hand, it becomes the largest ad you will ever do –  Eight foot tall type is simply more commanding than eight point tall type.
Although scale is the most obvious and dominant consideration of a branding program for your building, it's not the only one.  Time would be other major factor – You have to imagine ahead of time what it will be like for your fans to see your branding and promotional campaign over and over when it is, quite literally, the size of the building.  That's why there is never a substitute for the development of a proper strategy and a savvy deployment of your branding campaign on this level .  If your messaging is "trendy", or cavalier, your audience will tire of it quickly, and so will you.  You can actually damage your brand perception in the marketplace, in fact, your marketplace, and spend a lot of money doing it.
Which brings us to our next point – While we are all enjoying the digital revolution in our branding applications,  (We are, aren't we?) a mistake here is harder to get rid of than replacing the web page.  So if you want to avoid really, really big typos, proof, proof and proof again.
Regarding the point of building branding being the place where your logo meets your ad, this is the part of the process of developing your program where you'll want to allocate the most time and effort to create your new campaign.
When you're developing your strategy, you'll want to consider exactly what you want to communicate to your audience – Is it season tickets going on sale?  An anniversary?  Or the return of your marquee event?  Whichever the case may be, this is the time and place for you to think it through.  And in the process of doing so, you will hopefully come to the realization that you need a big idea.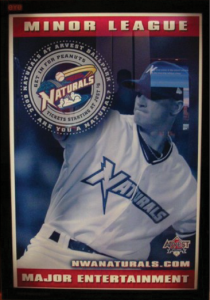 It's only fair – A Big Idea for a Big Execution.  The benefits of delivering your messaging within the context of a larger, more provocative concept are many.  For starters, a larger concept can deliver your messaging here and now, but also have the legs to deliver additional messaging further down the road.  Also, a bigger idea will underscore your brand recognition in other media like print, broadcast and the web.  Further, you have to consider the way people think, and the way they interact with your brand.
There is nothing terribly sexy about "Tickets Now 9.99", but under the heading of "Dare to Bring the Thunder", "It's Showtime", or "Minor Entertainment", it almost seems as if you're doing me a favor by letting me buy a ticket… "9.99" is a product benefit.  "Major Entertainment" is a brand promise.
If you have an existing campaign in place in other media, then your concerns are what we've covered so far, in terms of time and space, as well as to what degree the campaign is dominant or subordinate to your identity. But if you really want to have some fun, launching your campaign on a scale the size of your arena is one of the most exciting things you can do, and provides absolutely tremendous potential return for your brand as well.
There is nothing that is as exciting, or provides as much brand potential, as the combined launch of a new identity and a new campaign in your own arena –  Otherwise known as "Branding the Building".
To learn more about branding your building and other services that Phoenix Design Works offers, visit www.phoenixdesignworks.com.