SportsBiz Free Agent of the Week: Josh Robbins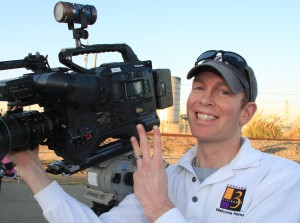 It's time for the SportsBiz Free Agent of the Week. Instead of featuring a top job posting, I like to feature a qualified industry professional who is looking for their next opportunity. If you are interested in being a future SportsBiz Free Agent of the Week, you can apply here.
Now it's time to introduce our next free agent, Josh Robbins! Let's learn more about him.
Goal: To gain employment in the media relations, stadium operations or video department of a professional sports organization.
Experience:
Videographer/Writer/Baseball Historian, 1999-2011
Contributed historical and biographical content for baseball websites
Official writer for the Arizona Diamondbacks on Prosportsblogging.com
Created promotional video of MLB UYA collegiate summer league team for website
Generated drafted players database for tracking future MLB talent
Coordinated ticket sales at Annual Urban Invitational Tournament
Served as Celebrity Golf Tournament Judge and Auction Runner
Researched businesses and civic groups for marketing and sponsorship campaign
Developed new in-game promotional activities to enhance the fan experience
Team Videographer during home games used for marketing and promotion
Produced season highlight video package and pre-game scoreboard introduction
Served as Official Scorer for select home games
Education:
MA, Sport Management, CSU-Long Beach (2010)
BA, Video Production, SUNY New Paltz (1998)
AS, Communications & Media Arts, Dutchess Community College (1996)
Greatest Accomplishment:
Sell Yourself in 3 Sentences or Less: A passionate sport management and video production expert with proven experience.  A baseball enthusiast with the ability to contribute to the development, promotion, and management of sporting events, teams, and facilities.  In 2008, set a world-record for driving to a game at all 30 Major League Baseball stadiums in 26 days.
You can connect with Josh through his LinkedIn page, via Twitter (@Qualcomm98) or by email at robbinsjosh@hotmail.com. If you have an open opportunity with your organization or know of another company that can benefit from Josh's experience, please reach out to him. I want to see this weekly feature really help some great people places into the industry positions they deserve.