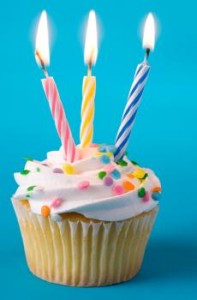 Today is the official third birthday for The Business of Sports!!!
I started this website while finishing up my last trimester of my MBA at Arizona State. At the time, I thought this could be a fun way to start communicating with the sports business community and get my name out there. I was just starting to explore the world of social media, and I felt that a blog would be an effective tool in building my personal brand and giving back to an industry that I love.
Now, looking back at the past three years, I couldn't be happier with how far it has come. Every month, the number of readers continues to grow.  I've extended from simple blog posts to videos, email newsletters, networking events and more. So many wonderful professionals have shared their own insights through interviews and guest posts. Most importantly, I've had so many great conversations and made countless valuable connections that will impact my career for decades to come.
I feel so for fortunate for the success I've had over the past three years, and its because of all of you who continue to read these posts and share your feedback. Thank you so much for your incredible support. I'm excited for how much more this can grow over the next three years and beyond.