Game Changers: Maximizing Sponsorship ROI Through Stadium Design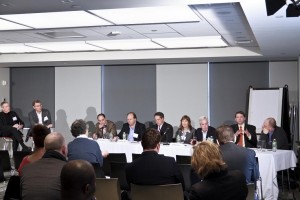 Today's post is courtesy of guest blogger Ron Turner, Director of Gensler's Sports and Entertainment practice.
In today's competitive environment, sports sponsors are more attentive than ever to ROI.  And with many owners planning stadium and arena upgrades, the industry has a unique opportunity: by integrating the needs of sponsors and advertisers into the design process, we can create dynamic, transformational arenas and stadia that enhance the fan experience, increase sponsorship revenue, and create operational efficiencies for property owners.
With this in mind, we recently convened a panel of sports industry professionals representing brands, sponsorship agencies, sports teams and sports venues to get a better understanding of the needs of the industry.  My colleague and founder of MRA International, Michael Rubin, helped lead the discussion with a distinguished panel that included:
Shervin Mirhashemi – Chief Operating Officer, AEG Global Partnerships
Woody Thompson – Executive Vice President, Octagon
Michael Robichaud – Vice President of Global Sponsorships, MasterCard
Robert Jordan – Managing Partner, Venue Research and Design LLC
Lisa Delpy Neirotti – Associate Professor, George Washington University
Tim McGhee – Senior Vice President, IMG Consulting
Seth Rabinowitz – Founder, Rabinowitz Consulting
We learned that the biggest concerns for the industry are related to technology, fan experience, ROI and sponsor integration.  Here is some of the advice we heard:
Involve sponsors early in the design process. Ideally, the venue owner should have sponsorship deals in place during the design process. This allows sponsors to customize their presence at the venue and maximize the fan experience, leading to an optimal ROI. Giving sponsors the ability to help design their own experience will also allow the property owner to provide added value in exchange for the price for the sponsorship as well as create a revenue stream prior to the completed construction of the venue.
Embrace technology and build it into infrastructure. The game day experience is becoming more interactive.  Fans are using digital signage and handheld devices more than ever. In response, venues need to incorporate enough bandwidth to satisfy this demand. This will allow fans to access information as they like, and also allow the venue to reach the fan during the game. Technology systems created by providers like Cisco and Harris allow operators to individually control every video display screen within a venue and target the unique audience watching each of those screens. The use of customer databases – with information gathered from the internet, handheld devices, credit cards, or ticket scans – will allow this technology to segment fans precisely. The technology holds great promise and will not reach its true potential until those involved with its operations are fully informed about its applications.
Make attending the event easier and more convenient than ever. Today, with what it costs to take a family of four to a sporting event, fans can buy a big screen HD TV to watch with friends and family in the comfort of their own homes. To get fans in the seats, venues need to minimize both monetary and non-monetary costs (such as time) by maximizing value and convenience. By integrating both automatic technology and reassuring human contact throughout the venue's customer service strategy – from initial web inquiries and ticketing all the way through event parking, concession purchases, concourse navigation and post-event communication – venues can make both the fan and the sponsor feel like they are a valued part of the overall experience.
This event allowed us to gain insight from sports industry professionals, but we want to take it a step further and hear from the fans. What do you think? What elements in a stadium create such a fun, exciting, game day experience? Take a quick online survey here so we can find out about your fan experiences.
Ron Turner is Gensler's Director of Sports and Entertainment and a principal in the Los Angeles office. Ron has over thirty years of experience dedicated to creating iconic event center designs that generate increased revenue, build civic brands, and employ innovative technologies. As a founder of sports design practices for Ellerbe Becket, NBBJ, RTKL and now Gensler, Ron has led design teams for numerous venues and sports-anchored entertainment districts around the world. You can reach him at ron_turner@gensler.com.