Global Sports Forum: Olympic Insights – Rio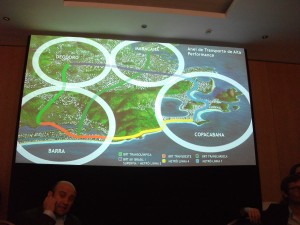 In the second half of my "Olympic Insights" posts, I'd like to share some information from Carlos Nuzman, President of the Rio 2016 Host Committee:
On the geographical design (see picture):
They are using a four cluster plan, deciding not to concentrate all venues in one area of the city. The games needed to go to all areas of the city and the legacy needed to reach all people throughout the city.
On transportation and security:
The biggest challenge for any bidding city is transportation, because 300,000 people come to your city. Rio is building multiple new metro lines, including one that is 30 meters under the sea. They are also building new BRT (bus and rail) lines between other clusters, which will be operated by the city, over 100km of BRT lines in total.
The metro lines and tunnels are already started, with some parts done by next year. They have also started work on the port as well.
Transport is top priority and security is second.
The city is committed to solving all security issues. There is enough time until the Games, and safety is important to the legacy of the games and the city.
Other thoughts:
Having the World Cup two years ahead of Games will be a big help in preparing. Both events share the problem of transport, so the airports will be ready to handle increase usage for the Cup. The two events have different organizing committees, but work in a similar way, raising private funds and working with public resources for infrastructure.
Politicians are very active and support the process, but they are not the ones driving the process.
Every organizing city will be different and it is hard to compare. Rio will be unique, just as London and Sochi will be unique.
The Rio 2016 Bid and Victory Video:
Carlos Nuzman talks about the legacy of Rio 2016:
This is my last post until next week. Time to enjoy some of the sights of Barcelona. Early next week, I will have additional posts on FC Barcelona, social media, and more, along with more pictures and videos. In the meantime, you should also visit www.TrendsInSpots.org, the official blog for the conference. Thank you for reading!