SportsBiz Free Agent of the Week: Nino Vanin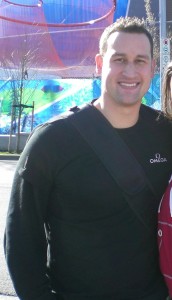 It's time for the SportsBiz Free Agent of the Week. Instead of featuring a top job posting, I like to feature a qualified industry professional who is looking for their next opportunity. If you are interested in being a future SportsBiz Free Agent of the Week, you can apply here.
Now it's time to introduce our next free agent, Nino Vanin! Let's learn more about him.
Goal: To utilize my background and experiences to drive revenue for a team, property or organization through sales and strategic marketing initiatives.
Experience:
Director of Sales & Marketing, Saint Joseph's University (PA) Athletics, 2007 – 2011
Sold and serviced corporate sponsorship agreements and maintained an annual renewal rate of 90%
Created and implemented marketing plans for flagship Men's Basketball program
Served as Sport Administrator for Men's Lacrosse – oversaw the program's budget, travel and fundraising
Ticket Manager, SportsMark Management Group, 2008 & 2010 Olympic Games
Managed distribution of extensive hospitality ticket inventory for Olympic corporate sponsors VISA and OMEGA
Assistant Director of Marketing & Corporate Relations, University of Connecticut Athletics, 2004 – 2006
Sold and serviced corporate sponsorship agreements
Developed marketing and promotional plans for men's basketball, women's basketball and football
Assistant Director of Sales & Marketing, Naval Academy Athletic Association, 2001 – 2004
Sold and managed corporate sponsorships and maintained a 95% renewal rate
Coordinated Group & Individual Ticket Sales initiatives for Football, Men's & Women's Basketball and Men's Lacrosse
Media Relations Assistant, University of Massachusetts Athletics, 2000 – 2001
Facilitated all aspects of publicity for Women's Volleyball, Men's and Women's Gymnastics and Softball
Education:
Master of Science in Sport Management, University of Massachusetts – Amherst
Bachelor of Arts in The Writing Seminars, Johns Hopkins University
Recent Accomplishment:
Developing the first donor-based Priority Points seating program for Men's Basketball at Saint Joseph's.
Sell Yourself in 3 Sentences or Less: I am a seasoned sports marketing professional with 10 years of experience in sponsorship sales and management, building creative team asset portfolios and driving revenue through creative marketing strategies. At the end of the day, my goal is to build relationships and create results.
You can connect with Nino through his LinkedIn page, via Twitter (@NinoVanin) or by email at nvanin@hotmail.com. If you have an open opportunity with your organization or know of another company that can benefit from Nino's experience, please reach out to him. I want to see this weekly feature really help some great people places into the industry positions they deserve.
Previous Free Agents of the Week: