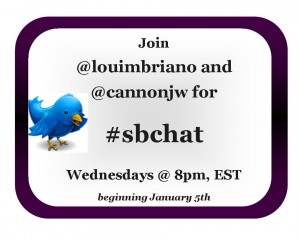 This weekend I had the chance to email back and forth with Lou Imbriano and J.W. Cannon, who a few weeks back started a weekly event on Twitter called #sbchat. It's another valuable resource for the sports business community that everyone should take advantage of. Here's what they had to say about it.
First off, what is #sbchat?
Lou: Every Wednesday at 8pm EST on Twitter, a group of sports business professionals utilize the #sbchat hashtag to discuss various topics about the business of sports. This one hour chat is a great exchange of concepts, opinions and philosophies concerning topical sports business issues. JW Cannon and I moderate and lead the direction of each week's chat to keep the chat efficient and helpful to all participants, rookies and veterans alike. At the end of the chat a transcript of the hour exchange is provided in case any participant missed any comments or if those interested in sports business were unable to attend.
Why did the two of you decide to start it?
JW: To be completely honest, I think that the biggest reason that #sbchat was started was because we were sick and tired of seeing sports business "professionals" peddling "advice" for a business that they haven't even worked a day in their lives in. Much of the information they were sharing (often with a price tag) was inaccurate or factually misrepresented, and we felt that it was leading the young folks coming up in our business down the wrong path. Unfortunately, nobody was really calling them out on it, and we saw this as a potential forum to set the record straight – not by throwing jabs, but with proven advice and commentary from savvy sports business professionals that had actually done the work. It sounds cliché to say that Lou and I want to "give back" to the industry, but we really do.
What are your goals for the weekly chat?
Lou: The goals of #sbchat are to introduce a topic that is relevant to the business of sports at the time of the chat in order for sports business executives to exchange best practices, while answering questions for those new to or interested in getting into the industry. The intention is to provide some transparency about the business of sports, while exhibiting mentoring and lending advice for those who are seeking direction. The hopes are that experienced pros will not only help those entering the business but also others in the field by providing their philosophies and experience.
What has the response been like so far?
JW: The response thus far has been great. We have a broad range of folks from all across the industry participate on a weekly basis – from the property to the brand to the event side, and usually average 20-40 folks per week participating. What's most positive has been the participation from the up-and-comers in the industry, who are not only coming to share their opinions, but also to learn from other folks in the industry (without paying $19.95, that is).
Finally, what is the best piece of advice or insight that you've seen in #sbchat so far?
Lou: There has been an ample amount of great advice since the genesis of #sbchat. Each week there are nuggets of gold that folks share that are not only helpful, but also thought-provoking. One theme that seems to have surfaced a few times is that sponsorship is only as good as the activation efforts that are put into motion to bring it to life and drive consumers. It's a concept that experienced sports business executives would think to be a given, however many companies miss the mark quite often. The reinforcement from multiple #sbchat participants has displayed that no one should assume that any proper practice is a given and discussion about all facets of the industry is healthy and helpful.
JW: There's been so much good advice passed though #sbchat that it's hard to pick out just one tidbit, but I'll try. I think in our very first #sbchat, we talked career development, and someone made a very good point about working in this industry and the work-life balance we all face. The point was that we all work long hours, weekends and holidays, but that's no reason for us to completely sacrifice a life outside of the office or to neglect your loved ones. We're not saving the world or curing cancer, so we all need to stop, take a step back, and at times, work a little more efficiently to ensure that your significant other, your family and your dog all remember who you are.
Thank you to Lou and J.W. for providing this great resource. Make sure to check out the next #sbchat tomorrow night!
Editor's Note:  You can use any Twitter interface (twitter.com, HootSuite, TweetDeck, etc.) to monitor and participate in the chat. However, I personally prefer to use TweetChat.com which has a very nice web-interface designed specifically to track a chat-specific hashtag like #sbchat.