The Positive Aspects of PSLs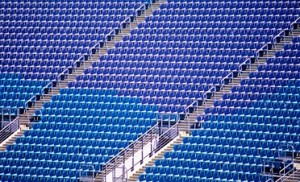 Today's post is courtesy of guest blogger Brian Connolly.
Over the past several years, I've worked on numerous football stadium planning projects for NFL franchises and BCS athletic departments.  In most cases, team supporters who were interviewed via survey or focus group ranked Personal Seat Licenses ("PSLs") relatively low as a potential stadium funding mechanism, compared to other potential funding sources such as corporate sponsorship and naming rights, long-term premium seating leases, and surcharges on tickets or parking.  In some recent cases, NFL franchises have even created different brand names for the PSL product, such as "Stadium Builder Licenses" or "Membership Equity", due to worries over the potential public/media reaction to the use of PSLs for project funding.
However, from my perspective as a sports business consultant, I have seen firsthand many of the positive features of a successful PSL program.  Here are a couple of the frequently overlooked positive aspects of PSLs that I have identified in recent years:
1) PSLs have enabled new football stadiums to be built with less public funding.
As municipal budgets have gotten tighter in recent years, the availability of public funding for new sports stadiums has also decreased.  More than 20 new NFL stadiums have opened since 1995, however the public contributions to those stadium projects have generally decreased. For example,, from 1995 to 2000, 75 percent of NFL stadium development costs were funded from public sources, however that public percentage decreased to 48 percent for stadiums opened from 2001 to 2005, and then to 35 percent for new NFL stadiums opened from 2006 to 2010.  In fact, New Meadowlands Stadium ("NMS") opened in 2010 as the first modern NFL stadium financed entirely through private revenue streams, and NMS did so by relying heavily on the upfront sale of PSLs to obtain private financing.
2) PSLs generate funding from stadium consumers, rather than spreading the cost over the general public.
A number of the traditional public funding sources that have been utilized for stadium projects over the years, such as sales tax increases, property tax increment and visitor tax increases (i.e. for hotel nights or rental cars), tax the general public rather than the specific users of the venue.  Through the use of PSLs, the people who actually consume the product are the ones paying for it, which can be viewed as more fair to the general public.  Granted, a number of taxing sources can also be venue-specific, such as ticket/parking surcharges or in-stadium taxes on concessions or merchandise, however this ignores the reality that…
3) Without PSLs, fans will typically end up paying more anyway.
With public contributions decreasing, teams have privately financed more and more of their stadium development costs, which means they need to generate significant incremental revenues to cover their debt service. To do so, they have had to increase prices throughout the stadium, not just in the corporate sponsorship and premium seating categories.  Without the significant upfront funding that can be generated by a PSL program, fans would see much greater increases in areas such as ticket prices, concessions, parking, etc. At least with a PSL program, fans are seeing much of those cost increases in a form where…
4) PSLs have significant long-term value to the owner.
Many media reports paint a picture of PSLs as a one-time expense that simply takes more money out of the fans' pockets, however most accountants would note that a PSL should not be viewed as an expense… but rather as an appreciating asset.  For a recent project I completed for an NFL franchise, I researched the long-term value for PSL owners of the nine NFL seat license programs that were launched between 1998 and 2003.  By comparing the average original PSL price for each stadium to the current market prices on team or third-party resale sites, it was determined that the market value of these nine NFL stadium PSLs increased by a compound annual growth rate anywhere from 7.5 percent (in Nashville) to 28 percent (in Pittsburgh and Chicago). In fact, the secondary market prices for many of the PSLs in Pittsburgh and Chicago have increased by more than 10-15 times the original purchase price.
Of course, many fans intend to purchase tickets in their personal seat for the rest of their lives, and thus may not be overly concerned with the value of the PSL asset on their personal balance sheet.  However, it never hurts to be able to sell your seat rights for a significant return if your personal finances take a downward turn that prevent you from purchasing season tickets any longer.
Brian Connolly is the founder of Victus Advisors (www.victusadvisors.com), a consulting firm specializing in market research and financial advisory for sports franchises, athletic departments, and entertainment venues. You can follow him on Twitter at @BrianHConnolly or e-mail him at bconnolly@victusadvisors.com.