The Greatest Show on Grass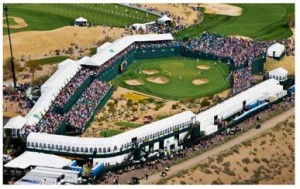 Today marks the start of the Waste Management Phoenix Open, a unique PGA tournament on many levels. The tournament didn't get its nickname, The Greatest Show on Grass, by attracting the same-old, 'quiet please', wine-and-cheese crowd. In some places, fans can stand literally three feet away from a player teeing off. Beer stands are never more than a stone's throw away, and you'll find more women in sundresses and flip-flops than men in polos and khakis.
The Phoenix Open regularly enjoys the highest attendance on the PGA Tour at over 500,000. Several attributes make this stop a special one:
1) Accessibility – Every general admission ticket to the tournament is $25. The tournament never sells out, so everyone who wants to go on Saturday or Sunday (the event's biggest days) is welcome. Waste Management offered hundreds of Facebook fans free tickets. This year, just for providing an email address and a closest-to-the-pin guess, a fan can get four free days of admission, and parking is free.
2) 16th hole – As you can see to the right, the 16th hole is unlike any other at a PGA tournament. The entire hole is ringed by bleachers. The players have to enter through a small walkway just off one of the main paths. The atmosphere at this hole can be summed up in one word: party. Fans will boo players who don't put their tee shots on the green, and will roundly cheer a great shot, as Tiger Woods learned when he got a hole-in-one in 1997.
3) Green initiatives – When Waste Management took over the tournament in 2010, they were determined to treat all of the, errr, waste like a resource. Guided by the four R's – reduce, reuse, recycle, recover – fans are encouraged to put their waste in the appropriate receptacles, 'greywater' is reused in toilets, and the tournament purchased renewable energy credits from APS.
The Phoenix Thunderbirds, the organization that has been tasked with planning this event for the better part of the last 78 years, has helped create a tournament that is fan and sponsor-friendly. Waste Management gets an enormous amount of press because of their unique initiatives, while many companies serve as sponsors in order to be able to use the tournament as a hospitality event. With the weather slated to be sunny and in the low 70's, it's sure to be a win-win week for everyone. Unless you're one of the players that misses the green off the 16th tee.