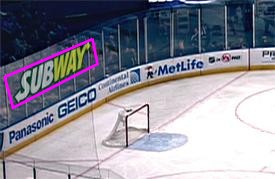 I was watching a hockey game the other night and the virtual signage on the glass at the ends of the rink made me think, "what others spaces are left to sponsor?"  So here is a quick list of physical and virtual inventory by sport that hasn't been sponsored yet, but could be. I realize that several of these might not be allowed because of rules on having uniform court/rink/field elements, but that doesn't mean it couldn't happen in time…
Hockey:
The crease
The blue lines
The penalty box
The goal netting (like with field goal nets?)
The faceoff circles
Center ice (if you ever dared to replace the team logo)
Basketball (after seeing Oregon's new court, I believe anything is possible):
The shot clock
The paint
The top of the key
The mid-court, free throw or three-point lines
The baselines (out of bounds)
Football:
The endzones (combine the team name/logo with the presenting sponsor?)
The virtual first down line (have seen this on some broadcasts I believe)
Sections of the coaches box and players area on the sidelines (the way NBA benches are)
The instant replay review booth
Baseball:
The bases (remember the Spiderman controversy a few years ago?)
The outfield (logos mowed in to the grass)
The on-deck circles
The first and third base lines (just along the grass)
The warning track
The bullpens
I know that some of these may seem ridiculous, but many of them don't even need to be physical elements. The entire reason I started thinking about this was because of the virtual signage in hockey games. There's no reason that the same technology can't be applied to these types of locations.
Note: Check out the comments below. I tried to add a little more context to the idea behind this post. Thanks!