SportsBiz Free Agent of the Week: Dave Schifrin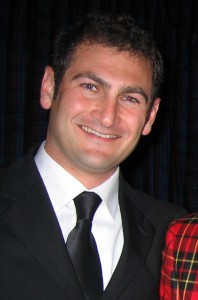 It's time for the SportsBiz Free Agent of the Week. Instead of featuring a top job posting, I like to feature a qualified industry professional who is looking for their next opportunity. If you are interested in being a future SportsBiz Free Agent of the Week, you can apply here.
Now it's time to introduce our next free agent, Dave Schifrin! Let's learn more about him.
Goal: I'm looking for an interesting opportunity in sports marketing and management where I can use my varied general management and brand marketing experience to bring a fresh perspective to and innovate within a forward-thinking agency or organization.
Experience:
At One Yoga & Spiritual Gangster – Business Director 2009 – 2010
Drove revenue programs, positioning company for successful acquisition by a large, national retail health club chain
Managed $1 million-plus P&L for two yoga studios and all yoga-related programming
Developed and managed the At One Yoga brand, solidifying its place as an innovator and industry leader
Analyzed member data to develop and track efficient, targeted marketing programs and identify optimal product pricing and product mix
Developed and managed a collaborative program with InterContinental Montelucia Resort to drive yoga-related destination travel and provide additional services for existing customers
Athletes' Performance & Core Performance, Director of Marketing 2006-2008
Managed brand development, positioning, communications and tactical marketing strategies for Athletes' Performance and Core Performance, both on and off line
Managed brand identity development and re-branding initiative for Core Performance
Developed marketing strategy for AthletesPerformance.com
Managed and developed strategic partnerships (new/existing) with companies such as adidas, EAS, Gatorade, Sheraton Hotels, Men's Health, Rodale Press and many others to increase brand exposure
Concepted and created innovative partnership with Sheraton Hotels & Resorts to bring effective training and nutrition solutions to all Sheraton properties worldwide
Led organizational development initiatives relating to providing world-class customer service
SportsNet, LLC (now Wasserman Media Group) – Manager of Operations & Client Relations, 2001-2004
Negotiated professional athletic contracts for soccer players in the United States and Europe
Negotiated endorsement, sponsorship and consulting contracts totaling over $1,000,000
Identified, recruited and signed new clients for representation
Women's United Soccer Association (WUSA) – Player Relations Consultant, 2001
Coordinated athlete appearances for over 50 events nationwide
Served as primary resource for athletes with regard to all league promotional issues
Created reporting methods to improve communication between teams nationwide and league office
Broadband Sports/AthletesDirect.com – Site Manager, 2000
Managed official web pages for 25+ professional and Olympic athletes
Managed media content across 30+ AthletesDirect.com and syndicate pages
Coordinated on-site operations for clients competing in 2000 Olympic Games in Sydney, Australia
FIFA Women's World Cup Organizing Committee – Manager of Ticket Sales and Operations, 1998-1999
Conducted national ticket sales initiatives which led to sales over 200 percent of initial projections
Implemented grassroots marketing initiatives to grow awareness and support nationwide ticket sales
Solved over 500 ticket distribution problems through case-by-case analysis
Managed game-day ticketing and Will Call for record-setting crowds of 70,000+ and 92,000+
Education:
Arizona State University, Tempe, AZ – MBA, Sports Business, 2006
College of William & Mary, Williamsburg, VA –BA, Economics, 1996
Recent Accomplishments: In less than a year, I was able to position At One Yoga for a successful acquisition by a large public company. The entire process was invigorating and I'm tremendously proud of the transaction.  Also, I'm still very proud of the Core Performance program at Sheraton Hotels & Resorts worldwide, which helps provide innovative health and fitness solutions for travelers. I developed the program with Sheraton a couple of years ago, but the rollout through their hotels worldwide is ongoing and proving to be a real differentiator for their brand.
Sell Yourself in 3 Sentences or Less: I'm a strategic, analytical manager with 12+ years experience. I pride myself on being able to see all sides of issues and evaluate situations and opportunities providing new perspective and offering creativity and innovation, while keeping business objectives prioritized. I'm a strong relationship builder and team player who puts clients – both internal and external – first.
You can connect with Dave through his LinkedIn page or by email at dschifrin@yahoo.com. If you have an open opportunity with your organization or know of another company that can benefit from Dave's experience, please reach out to him. I want to see this weekly feature really help some great people places into the industry positions they deserve.
Previous Free Agents of the Week: