Naming Rights and Corporate Stability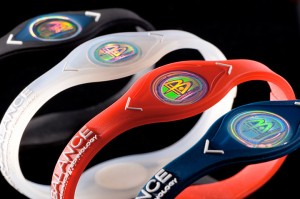 Last week, the Sacramento Kings announced that they signed a new naming rights deal. On March 1, the building's name will officially change from Arco Arena to Power Balance Pavilion. It is a five year deal, and the financial details have not been released, although it supposed to be worth much more than the $750,000 per year they had been getting from Arco. You can read about the deal over at the Sports Business Daily.
For those of you that might not be familiar with Power Balance, they produce bracelets designed to, well, improve your balance.  Here is a quick description from their website:
What is Power Balance?
Power Balance is Performance Technology designed to work with your body's natural energy field. Founded by athletes, Power Balance is a favorite among elite athletes for whom balance, strength and flexibility are important.
How Does the Hologram Work?
Power Balance is based on the idea of optimizing the body's natural energy flow, similar to concepts behind many Eastern philosophies. The hologram in Power Balance is designed to resonate with and respond to the natural energy field of the body.
What makes this deal interesting to me is that Power Balance is quite a controversial brand right now. Because of complaints from Australian consumers, Power Balance has stated that there is no "credible scientific evidence" behind their product, and they are currently facing three false advertising lawsuits in the U.S (Sporting News, 1/14/11). Based on this information, I don't think it's a stretch to say that Power Balance doesn't represent a particularly stable brand.
If you only look at the financial value of the deal over the five-year period, I'm sure that this is a profitable deal for the Kings, and probably does a lot for the credibility and visibility of the Power Balance brand. However, if the company faces further legal problems or consumers decide to abandon their product, what happens to the Kings and the value of their naming rights moving forward? If anything happens that leads to the deal ending prematurely, the market value for those rights could easily be diminished. Is that worth the risk of the short-term dollars that Power Balance was willing to pay over any second or third options (if there were other options, of course).
On the other hand, Sports Business Daily also highlighted that Sacramento is a small market, which has its own long-term challenges for stability of a professional sports franchise. If there's a chance the Kings are unable to stay in Sacramento more than a few more years, this deal could end up making much more sense.
What do you think of the risk vs. reward of a deal like this?