SportsBiz Free Agent of the Week: Caleb Mezzy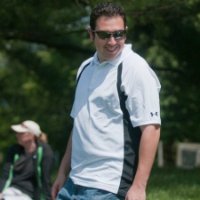 It's time for the SportsBiz Free Agent of the Week. Instead of featuring a top job posting, I like to feature a qualified industry professional who is looking for their next opportunity. If you are interested in being a future SportsBiz Free Agent of the Week, you can apply here.
Now it's time to introduce our next free agent, Caleb Mezzy! Let's learn more about him.
Goal: To secure a position in sales or sports marketing as a Social Media/Marketing/Sales Representative in the Northeast where I can apply my innovative thinking, personal skills, and go-getter mentality towards a product, team, agency or organization.
Experience:
Sales Professional, Papers Unlimited, Huntingdon Valley, PA, July 2010 to Present
Buying and selling 1st quality paper products
Creating and developing relationships with mills and printers
Cold calling, lead development and pipeline management
Maintaining inventory and purchase orders
Marketing Consultant, 5Msports, September 2009 to Present
Building relationships with agents and players
Obtain prominent clients such as Macho Harris, Michael Vick, DeAngelo Hall and Collin Balester
Facilitated the development of CollinBalestar.com
Associate Scout, Philadelphia Phillies, September 2009 to Present
Served as apprentice to Eric Valent, Northeast Area Supervisor
Traveled to high school/college games in the Greater Philadelphia Area to assist in workouts/evaluations
Wrote reports on amateur talent and developed a "follow" list of future talent in the area
Sales Representative, All-Star Baseball Academy, West Chester, PA, January 2010 to April 2010
Made 750 cold calls a week
Sold baseball events from the Northeast down to the Southeast
Sports Agent Intern, Elfus-Siegel Management Sports Agency, Philadelphia, PA, October 2007 to August 2009
Assisted Partners with management of client group of professional athletes, nationally and overseas
Prepared interactive selling-point presentations for potential clients
Provided independent research of potential recruits
Direct one-on-one client contact
Recruited baseball, basketball, football collegiately
Marketing Chair, Senior Seminar, Temple University, Philadelphia, PA, January 2009 to May 2009
Oversaw five committee members and leading weekly meetings
Developed creative approaches to connect with underclassmen, fellow peers and faculty
Communicated with executive board regarding fundraisers, projects, presentations, and monetary decisions
Education:
Bachelor of Science, Sports Management, Temple University: School of Tourism and Hospitality Management, September 2009
Greatest Strength: My ability to plan, organize and execute a successful plan from start to finish is my greatest strength. I'm very proactive in my efforts to accomplish my goals, and my positive attitude keeps me motivated and focused.
Sell Yourself in 3 Sentences or Less: Being a sports oriented person with a business approach, I believe that teamwork can accomplish tasks efficiently. With my persistence, pride, and passion behind my hard-work, I cannot be deterred from achieving success. My natural charisma and passion towards sports marketing and sales will improve any company or organization.
You can connect with Caleb on Twitter (@Caleb_Mezzy), through his LinkedIn page, or by email at csmezzy@gmail.com. If you have an open opportunity with your organization or know of another company that can benefit from Caleb's passion and experience, please reach out to him. I want to see this weekly feature really help some great people places into the industry positions they deserve.
Previous Free Agents of the Week: