What to Watch For in 2011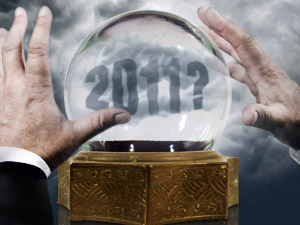 Last week we stopped to look back on the top sports business stories of 2010. Now that it's officially 2011, it only seems natural to start thinking about what stories we're going to follow in the new year.
– Collective Bargaining:  This is the big one. Both the NFL and NBA collective bargaining agreements expire in 2011, and nothing is more crucial for the long-term success of a sports league as the stability of the relationship between the owners and the players. Everyone is going to be paying very close attention to the negotiations for both leagues, know that the potential for work stoppages is lingering in the air. And technically, MLB's agreement expires in December of 2011. Right now, no one seems to expect an issue with baseball, but you never really know.
– Social Media and Technology: If you're reading this site, you're probably also interested in how social media and other emerging technologies are impacting the industry.  Over the past year, we've started to get a better feel for this topic, but as soon as you think you understand it, new technology appears and you have to start learning again.  For some great insight on sports and social media predictions for 2011, check out this great e-book by Jason Peck (and thanks to Jason for letting me contribute again this year).
– The Rugby World Cup: We might not have an Olympics or soccer World Cup this year, but we do have the 2011 Rugby World Cup in New Zealand starting in September.  While the sport might not be that popular in the United States, this is a very significant event on the global sports scene. In addition, there are still some questions about whether the facilities in New Zealand will be ready in time and there's a rumor of a hospitality worker strike being timed for the event.
– MLS Expansion: Two new MLS clubs start playing in 2011, the Portland Timbers and Vancouver Whitecaps FC.  Considering that the league expanded to Seattle in 2009, they are building quite a footprint in the pacific northwest. The league seems to be expanding in a very productive way, selecting markets where professional soccer can thrive both on a local level and expanding their national media presence. In addition, Sporting KC will start playing in a new soccer-only stadium in Kansas City this summer, following up on the opening of Red Bull Arena in 2010 (thanks @JoshuaABoren).
Some other questions for 2011 include:
How will the first-ever NBA regular season games in Europe do (At the O2 in London in March, thanks @yandreopoulos).
Will Tiger Woods start playing like Tiger Woods again, and what impact will he have on the sport of golf?
What will we learn during this year's Barry Bonds and Roger Clemens trials?
How will new mobile devices, including phones and tablets, impact marketing and fan engagement? (thanks @anothersamchan)
Will NASCAR ratings continue to trend downward, or can they rebound?
How will 3D television impact sports broadcasting?
What stories are you most interested in for 2011?
Finally, I hope all of you can attend one of our free networking events this year. We have three on the calendar for January in New York, Los Angeles and Phoenix. We also have interest lists building for Boston, Baltimore/DC and Dallas. Click here for the full event calendar!