Sports Business Resume Advice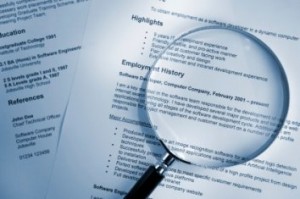 Through this website, I'll often receive resumes from individuals looking to break into the sports industry (I'm actually thinking about adding a resume bank section to the website – I'll revisit that idea in 2011).
Anyway, one particular resume that I received over the weekend had such a glaring flaw in it that I needed to share it here as a warning to all future sports business applicants.  Here's the snippet of the offending resume (with identifying information removed)
Honors and Skills:

Microsoft Word, PowerPoint, and Excel Certification
XXXXX High School — Raider Award
Varsity Soccer Team Captain
Varsity Soccer Team XXXXX State Runner-Up
2007, 2009, 2010 XXXXX Fantasy Football League Champion
2009 Erin Andrews is Amazing Fantasy Football League Runner-up
2008, 2009 XXXXX National Roto (Fantasy Baseball) and 2010 League Runner-up
2009 XXXXX Fantasy Baseball League Champion (Manager of the Year/Silver Slugger)
The rest of the resume was fairly standard for a current undergraduate that is about to graduate but does not have any sports-specific experience yet. However, just because you don't have sports experience, doesn't mean that your fantasy sports success should go in a resume! There is absolutely NO situation where this type of information should be listed (except maybe if you are actually applying to be a fantasy sports analyst). On top of that, he actually listed a league called "Erin Andrews is Amazing" – even if the rest of his resume was good, there's no way he can be taken seriously.
In addition, the items about his varsity soccer team being state runner-up (which I assume is from his high school playing days) has no place in a resume. The items about being a team captain or winning a team award don't add any value unless you can provide some type of detail in how your experience as a high school team captain relates to the position you are applying for. In the current context, all this does it highlight that you are an athlete and a fan who still doesn't understand how the industry works.
(Update: As an additional note, if you are currently a high school student or just graduated high school, then you have a lot more freedom to include items like this since you probably don't have work experience yet. But if you are about to graduate from college, including these high school details would just make me wonder what you've been doing the past four years in college. Some people might think I'm being overly critical, but I want applicants to have the right perspective and put themselves in a position to succeed.)
I tweeted about this over the weekend, and people were stunned that someone would include this information in a resume. Unfortunately, I have seen this before, so I want all potential applicants to learn this lesson now and maybe we'll stop seeing it in the future. Here is my top five list of items to keep out of any sports-related resume (and thanks to the folks on Twitter for contributing!)
Your favorite team or sport
How much of a fan you are
Anything related to fantasy sports or video games
Statistics from high school / college / amateur sports
Typos and grammatical errors
What else would you add to this list? Share your own resume pet peeves in the comments.
Update –  More reader suggestions:
From @cannonjw:  Stupid emails, ie bootysnatcher8@[redacted].com, not appropriate (actually rec'd). Don't care if you're good @ snatching booty or not
From @JimOToole:  "I am passionate about sport…."