Nike's Football Media Summit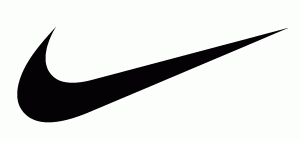 Today's post is courtesy of guest blogger Eric Habermas who attended Nike's Football Media Summit earlier this week.
If there is one thing nobody can argue about when it comes to Nike it's that the sports apparel giant knows how to create a buzz. And Tuesday's Nike Football Media Summit in Dallas was no exception.
Complete with smoke and special effects, not to mention Jerry Jones' out-of-this-world video board looming overhead, Nike went to great lengths to put on a show at Cowboys Stadium. Former Heisman winner and Super Bowl MVP Desmond Howard served as emcee and was joined on-stage by several NFL stars as Nike rolled out the latest installment of its edgy Pro Combat uniform line — Oregon, Florida, Boise State and TCU will wear them in bowl games — and unveiled its newest and lightest football cleat yet, the Air Zoom Alpha Talon.
Chiefs receiver Dwayne Bowe, who leads the NFL with 14 touchdown receptions, was among the NFL players on-stage and raved about the new cleats, and an obviously jealous Howard later quipped, "I might as well have been wearing army boots compared to what the players have now."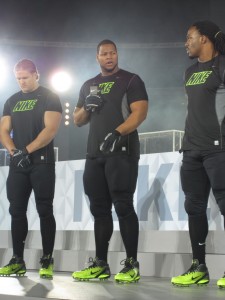 But with Oregon set to play Auburn in the BCS National Championship game Jan. 8 in Glendale, Ariz., it was predictably the Ducks' uniforms that sparked the most chatter at the event.  The new Ducks duds are predominantly white and gray — basic enough, right? — except it looks like someone took a highlighter pen and outlined the numbers and the signature "O" on the graphite-colored helmet. The Ducks' socks are also a distinct, look-at-me neon yellow.
The Oregon uniforms, despite being noticeably absent any trace of the color green, are a step up from the colorless uniforms the Ducks wore in its Civil War rivalry game with Oregon State when TV viewers tuning in must have thought they suddenly had a black-and-white TV again. So, love them or hate them, you will definitely notice them and almost certainly have something to say about them, which speaks to the genius of the Nike marketing machine.
Give credit to Nike for taking an otherwise dull weekday in December and turning it into a showcase for how it is constantly reshaping football — for both the players and fans.
You can find additional coverage of this event at: