MLBAM Blocking MLB on YouTube
Update: As of 1:30PM (about 3-4 hours after this post went up), the MLB YouTube page has been fixed so that the error does not appear. I do not know if the mistake came from MLBAM or YouTube. In general I hope that MLB continues to use this channel and increases the amount of digital content released outside of MLBAM managed websites.
Normally I don't like highlighting anything negative on this site. My preference is to share best practices and success stories that others can take and apply to their own organizations. However, I saw something this morning that I need to share.
Most of you probably know about how all of MLB's digital content is managing through MLBAM, and as such, you won't find videos involving MLB content on YouTube or other video sharing sites. Whether you agree or disagree with their position on this is a topic for another time. However, one small exception to this is MLB's official YouTube channel (youtube.com/MLB).  There are only eight videos up there right now, but it's a start.
Well, this morning I went back to their official YouTube channel and saw this…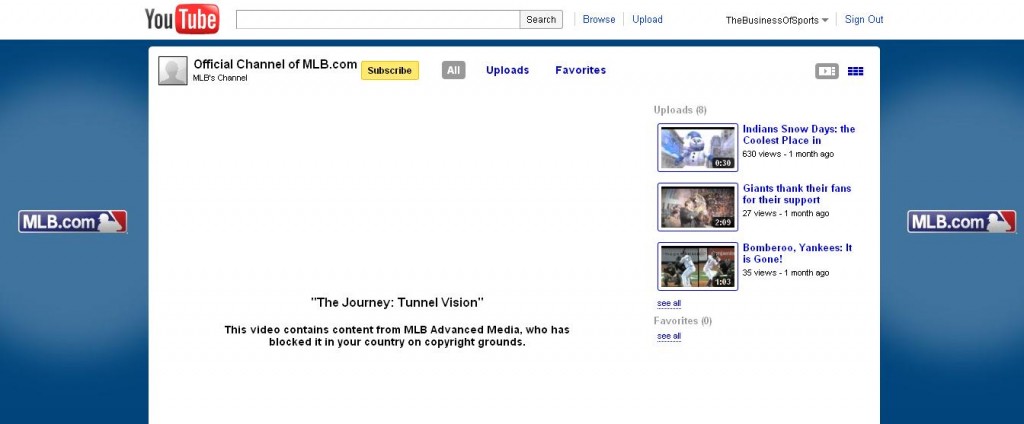 If you can't read the text, it says "This video contains content from MLB Advanced Media, who has blocked it in your country on copyright grounds." So if I understand this correctly, MLBAM is blocking a U.S. resident from watching MLB video content on the official MLB YouTube channel. I really hope this is just a temporary mistake. Otherwise, is there really a point to having an MLB YouTube page at all?