SportsBiz Free Agent of the Week: Dave Cutler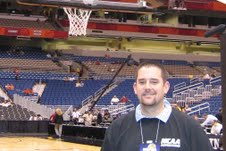 It's time for the SportsBiz Free Agent of the Week. Instead of featuring a top job posting, I like to feature a qualified industry professional who is looking for their next opportunity. If you are interested in being a future SportsBiz Free Agent of the Week, you can apply here.
Now it's time to introduce our next free agent, Dave Cutler! Let's learn more about him.
Goal: To secure a position in sports marketing that will enable me to apply my well-developed skills, expertise and experience to contribute to the success of the organization.
Experience:
Production Manager, Decision Resources, Burlington, MA, March 2007 – Present
Design and produce graphics to enhance company reports
Liaise with other departments to ensure efficient delivery of graphics
Identify areas for improvement in the production process and facilitate implementation of changes
Marketing Consultant, Freelance, Waltham, MA, October 2005 – March 2007
Directed marketing efforts for small business clients
Identified and sought out new potential partnerships for clients
Created and produced sales materials and client newsletters
Marketing Manager, Sports Illustrated, New York, NY, November 2002 – October 2005
Managed department's relationships with professional sports leagues and various vendors
Produced 6-7 direct response television commercials annually for Sports Illustrated
Conducted quantitative analysis to review performance of new campaigns, media buys, etc.
Managed selection, ordering and inventory management for all licensed products
Marketing Coordinator, NBA, New York, NY, September 2001 – November 2002
Directed local sales initiatives in NBDL markets
Serviced NBDL partner accounts with Fortune 500 companies
Managed new business development within the NBDL & WNBA
Sourced and contacted new business prospects to pitch advertising and sponsorship deals
Marketing Associate, New Jersey Nets, East Rutherford, NJ, September 1997 – June 1998
Managed existing and contacted prospective  sponsorship accounts
Wrote and edited a quarterly team sponsorship newsletter and research manual used by subsequent interns
Education:
Bachelor of Science, Sports Management, Springfield College, December 2000
Greatest Accomplishments: I'm especially proud of the changes I brought to SI's direct response TV ads, improving the production value and introducing subscription enticements with greater brand value and higher quality manufacturing. Overall, I'd say my greatest accomplishment has been my ability to evolve, transitioning through different facets of marketing world, mastering new skill sets along the way while bringing a creative and proactive approach to all that I've done.
Sell Yourself in 3 Sentences or Less: I am a passionate and creative marketer with a knack for learning on the fly and a talent for relationship management. I have varied experience within the sports marketing world that has given me a unique perspective and enables me to analyze and navigate situations from multiple vantage points.
You can connect with Dave on Twitter (@CutlerDave), through his LinkedIn page, at his recently launched blog at CutlerDave.com or by email at cutlerdave@gmail.com. If you have an open opportunity with your organization or know of another company that can benefit from Dave's experience, please reach out to him. I want to see this weekly feature really help some great people places into the industry positions they deserve.
Previous Free Agents of the Week: