Reaction to World Cup Host Announcements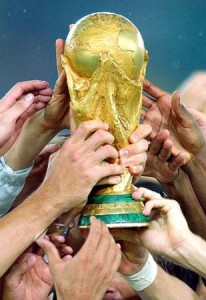 Rather than just giving you my opinions of the this morning's World Cup host location announcements, I decided to ask everyone on Twitter what they thought. I felt that this would be a more accurate gauge of what other sports business professionals are thinking.  Feel free to share your own reaction in the comments below, and thank you to everyone that responded to my Twitter request!
Question: "What is your #sportsbiz reaction to today's world cup host announcements?"
andymorr

– Hard to believe that FIFA thinks they could make more $$ in Qatar than US. Sponsorships, ticket sales, etc.

nolabongz

– To be frank, the majority of people outside the US don't really care what the US thinks about football either 😉

jaredmelzer

– Surprised that it was not going to a traditional European football centric country in 2018. Think it's a lock for 2026.

Ryan_ALSD

– On the premium side I am very curious to see what packages and approaches are taken, especially in Qatar.

#sportsbiz

mwteller

– Big economic blow to US. Would've been a cash cow given the fact stadiums/infrastructure already built.

dsaggio – It shows global economy in sport. Much like F1, it's about all markets, not just major ones. It's about expansion & acquisition. And $$$
JoshuaABoren – World Cup decision very encouraging for US sports architects/engineers/builders as provides lots of job opps since US venues already built!

akafie

– Re: World Cups –

#FIFA

continues trend to expand into new markets, Qatar infrastructure concerning, U.S. fav 4 #2026

#sportsbiz

Sponczar – Somewhere in the learnings from lost US bids for World Cup and Olympic hosting is a bid sales manual that needs to be shredded & rewritten
Here are some additional takes on the announcement, not in reply to my question, but quite valuable:
sportsmktgguy

– So England loses World Cup bid to Russia & US loses to Qatar? When do sponsors & TV partners challenge FIFA?

ryanknapp

– Next 12 years with the World Cup on the horizon in the US would have been huge growth of the game. Not the end, but a large setback.

AshRead14

– I like the idea of reaching out to new areas. But World Cup should also be about history and heritage.
And finally, from Joe Favorito…
joefav – Antarctica, Easter Island become the faves for the 2026, 2030 World Cup, FIFA asks 4 a commitment from NASA to get Mars for 2034