Panthers Purrsuit Social Media Adventure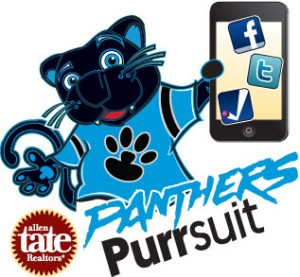 Today's post is courtesy of guest blogger Mike Mahoney.
May 18, 2010. 8:30 a.m. – At Caribou Coffee, in the shadow of uptown Charlotte, people fill chairs for coffee meetings, fire up Wi-Fi  on their laptops, and swing in to get their day started with some much needed caffeine. Scott Hepburn (@scotthepburn) and I meet to exchange ideas and chat about social media, marketing, sponsorship etc. It's maybe the 4th time we've done this over the last year.  We go over a number of things we are each trying to get accomplished and Scott brings up one last project he has started. He pens it as a "social media road rally", touring Charlotte while documenting your Amazing Race like experience using social media. He has a couple of businesses signed on to be stops on the tour, hosting competitors and offering challenges. I thought instantly it had potential. Scott was meeting with his prospects and clients and getting good feedback. I thought about how we had been looking for a way to include social media in sponsorships. I thought the Panthers would make a great theme for the event, something to tie it all together. And we'd have enough partners and connections to get a sponsor to help defray costs while generating payback for their efforts. Plus we could include our community partners who would benefit from the mentions and interaction.
I take the concept back to the Panthers sponsorship group and got early buy-in from my boss, John Berger, and team to research and find out more about what the event would look like. Sponsors had been asking us about Facebook (Panthers FB  launched 3 days earlier) and Twitter, where we had 9,000 followers for a while now. Scott came in and explained it to the group and after two or three follow-up meetings, everyone was on board. We needed a title sponsor. Allen Tate Company, the leading residential real estate company in the Carolinas, was the first company I called. They were the first of our sponsors in Charlotte to hire a full-time social media coordinator, Genevieve Jooste, (@genevievejooste) who talked to Scott about it as well separately.   Scott agreed to let me try to make the event a Panthers event and hire Media Emerging, his firm to be the race director. Dana Thomas, our event coordinator would run sign-ups and marketing of the event and any operations at the stadium and organize the awards party. Our sales team and account managers would work with our sponsors and include some as stops on the challenge and we'd need to find sponsors to cover the costs. Our mascot, Sir Purr (@pantherssirpurr) would do whatever we needed.
July 7, 2010 – Genevieve and the VP of Marketing for Allen Tate setup a meeting at the stadium to talk about fresh ideas for 2010 sponsorship elements. The goal was to have something with more concrete measurement capabilities and benefits. Allen Tate CEO Pat Riley bought in quickly after the presentation and agreed to be the title sponsor as they saw immediate fits with bringing in open house, offices with agents and combing both social and personal interaction.
Several planning lunches and brainstorming sessions continue. Allen Tate's marketing team brainstormed and generated the final event name, Panthers Purrsuit and logo. Media Emerging generated YouTube, Facebook and Twitter accounts which we all helped manage.  One of the main questions we get is why are you charging for this and why $20. We just had to know how many people to plan for. We knew we get more folks for free but how could busy retail locations plan for an event not knowing if it would be 25 or 200? So we decided we'd charge about what our 5K race charges and instead of getting to run for 20 minutes you'd get a whole day of fun, free stuff, coupons, and companionship with a partner (not to mention great prizes).  Scott Hepburn and the assigned Panthers reps went out to each interested sponsor to help create exciting challenges for the teams to complete.
By the time registration ended in mid October we had two Panthers players help us with videos, Jon Beason (@jonbeason) and Everette Brown (@everettebrown). We had several teams make promotional videos after their entry and engaged in playful trash talking. Thirty-two teams signed up and they were all extremely enthusiastic, making costumes and uniforms and trying to encourage their friends to get involved as well.  The Panthers added a new sponsor to our roster as well in SportClips who saw the value in promoting Purrsuit across their 14 area stores since they too are very active in Facebook marketing and Twitter.
October 23, 2010 – Event day was a truly amazing sunny Chamber of Commerce weather day in Charlotte. After days of stuffing SWAG bags, filling envelopes with color coded clues, and delivering signage, we were ready. Teams started from Bank of America Stadium by kicking a field goal into an inflatable goal post and getting their pictures taken with Panthers mascot SirPurr. Teams were dispatched with their first clue at 1:00pm. After that, If you were in Charlotte and on Twitter from 1pm – 6pm you could not miss #Purrsuit Tweets, Facebook posts and YouTube videos. Not to mention teams of two building Lego houses on a real estate office sidewalk, scooping up empty sweet tea containers with their elbows in recycling bags, watching 3DTV, and playing paper football in a dining booth. All in response to challenges dreamed up by Panthers partners and Scott Hepburn. Some sponsors had the capability and the vision to dedicate resources to be on-site interacting with the contestants. Others came up with ways to be creative without expending many resources at all. I believe it is fair to say the stops where staff were there to meet and greet, instruct and compete against the teams were the favorites of the challengers. Allen Tate was certainly in this group, as was Goodwill Industries of the Southern Piedmont and Bojangles' Famous Chicken and Biscuits.  Their blogs, recaps, or photos are linked in their names above. We collected school supplies for classroom central, food for Second Harvest Food Bank, learned more about Goodwill's job training and electronics recycling and garnered $10 text donations to the Library system.
To tie this all up in a bow Purrsuit was a success from a numbers perspective, mentions, sponsorship, interaction, donations, sales all were there and that is important. But the most gratifying part of the entire event by far was the Bud Light awards after party at Dandelion Market where we had a private room upstairs and we were able to have a cold one, tally up the points, give out the prizes and collapse from the exhaustion of a crazy day. The winners were funny, smart and gracious. Check out the pictures from our Facebook page and a full recap of all the media exposure and relevant numbers from the event are on this slideshare presentation (also included below).
And of course, there are more people to thank than I will be able to here but the event would not happen without Scott's creativity (he wrote about his 5 A-Ha moments in the process here), Dana's execution, the support of everyone at the Panthers from the top down and the bottom up and of course the vision of the Allen Tate Company team who continue to be leaders in real estate as well as social media and the rest of our sponsor and partner roster that participated.  I certainly can't express enough gratitude for the support of the Sportsbiz community as well as the social media advocates and Panthers fans in Charlotte.
Mike Mahoney is a sponsorship sales executive for the Carolina Panthers with 5+ years of sponsorship sales experience. Prior to selling in the sports world he worked in major account sales at FedEx and SAP. Mike believes in the power of CRM and loves social media. You can follow him on Twitter (@mahoney) or find him on LinkedIn.