Sports Business Events in Philadelphia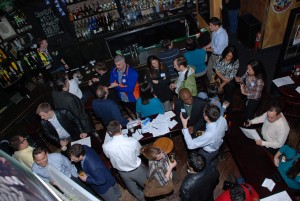 If you are a sports industry professional or a job/internship seeker in the Philadelphia area, then there are two events you should take advantage of next month!
Philadelphia Sports & Entertainment Career Fair
Wednesday, December 8 at the Wells Fargo Center
Career Fair from 2:30PM – 4:30PM
Meet with personnel from the Flyers, Sixers, Phillies, Eagles, Wings and more
Includes a ticket to that night's Flyers/Sharks game
Contact Erin Dunn at (215) 952-5749 or edunn@comcast-spectacor.com for more information or to register.
The Business of Sports – Philadelphia Networking Event
Tuesday, December 13 at The Field House (1150 Filbert Street, Philadelphia)
Open networking from 6:30 to 9:30PM
Free to attend, all backgrounds welcome (No resumes please!)
The career fair is a great way for job seekers to get a foot in the door with local sports organizations, and our networking events provide opportunities for sports professionals on all levels to connect with other like-minded individuals and build up their professional network.
Keep an eye out for additional networking events coming soon, including tentative dates for New York in December and Los Angeles in January!