SportsBiz Free Agent of the Week: Paul Hemingway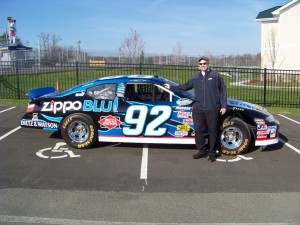 It's time for the SportsBiz Free Agent of the Week. Instead of featuring a top job posting, I like to feature a qualified industry professional who is looking for their next opportunity. If you are interested in being a future SportsBiz Free Agent of the Week, you can apply here.
Now it's time to introduce our next free agent, Paul Hemingway! Let's learn more about him.
Goal: To continue to help a professional sports team/entity to find new revenue opportunities, while at the same time providing top notch partner value and superior customer service.
Experience:
Senior Director, Sales and Marketing – Watkins Glen International Speedway (NASCAR, IndyCar)
Directed entire marketing and sales efforts for large motorsports events, including, but not limited to, the NASCAR Sprint Cup Series and IndyCar Series
Oversaw sales, public relations, consumer marketing, ticketing & retail staff
Managed marketing partnerships with regional/national media
Sports Management Instructor/Director of Marketing – Keuka College (Division III)
Designed and implemented curriculum for concentration with 50+ students
Instructed and evaluated all classes in sports management
Other Previous Positions Include
Director of Communications – Manchester Monarchs (American Hockey League)
Public Relations Manager – Nashua Pride (Atlantic League of Professional Baseball)
Public Relations Assistant – Boston Celtics (NBA)
Education:
Master of Science, Sports Management – University of Massachusetts-Amherst
Bachelor of Arts, Communications – University of New Hampshire
Greatest Professional Accomplishment:
I take great pride in the accomplishments of the students that I have taught/mentored and enjoy to this day hearing of their successes in the world of sports business.
Sell Yourself in 3 Sentences or Less:
I'm a sports marketer who compels people to take action.
I'm a proponent of over-the-top customer service.
I believe in challenging a team to take risks because the price of inaction is far greater than the cost of making a mistake.
You can connect with Paul through LinkedIn, Twitter, or via email at PaulHemingway2010@yahoo.com. If you have an open opportunity with your organization or know of another company that can benefit from Paul's experience, please reach out to him. I want to see this weekly feature really help some great people places into the industry positions they deserve.
Previous Free Agents of the Week: