NHL Hashtag Battle on Twitter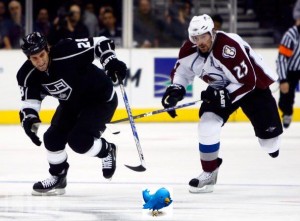 I'm always on the look out for new, fun ways that teams can use social media to engage their fans and customers, so I was quite pleased to see this latest initiative from the Los Angeles Kings and the Colorado Avalanche (with a big assist to Digital Royalty, who worked with the Kings on this program).
On Saturday, October 23, the Los Angeles Kings and Colorado Avalanche "faced-off" in a the first-ever NHL Hashtag Battle, as part of Hockey Fights Cancer Awareness month. From the start of the game until the final buzzer, fans of each team could tweet with either the hashtag #GoKings or #GoAvs, and for every tagged tweet, $1 would be donated to the Childrens Hospital Los Angeles or local cancer organizations in Colorado involved with the Hockey Fights Cancer program.
This type of social media initiative has a wonderful combination of competition between rival teams, fan engagement and community outreach. The battle was actively promoted on the teams websites and via email. So what did the results look like?
Final score:
#GoKings: 29,374 tweets
#GoAvs: 13,876 tweets
Specifically looking at the Los Angeles Kings:
$29,374 was raised for the Childrens Hospital of Los Angeles
The Kings were also the #1 trending topic world wide during the game (better than UFC, which had two fights going on, and Kanye West, whose short film "Runaway" debuted at the same time)
The team added close to 1,000 Twitter followers during the battle
Sounds like a pretty effective campaign from the folks at the Kings and Digital Royalty. You can read more about the Kings use of Twitter here.