Airline Sponsorships Take Off with Creative Activation Platforms
Today's post is courtesy of guest blogger Brian Gainor. Brian is the Founder of Partnership Activation Inc., a venture that provides sports business professionals with sponsorship and marketing best practices, unique activation tactics, and innovative ways to drive revenue for their business. He also works for GMR Marketing.
As the sponsorship marketplace continues to mature across the globe, the airline category has remained alive and healthy as many carriers look to take their consumer engagement and hometown affiliation programs to new heights. Despite the global recession and fluctuations in oil prices, airlines have continued to invest in the sponsorship space, particularly in the government, arts, music festivals, and sports categories. Airlines typically leverage their partnership agreements to drive hometown affiliation awareness, engage with consumers in 1-to-1 settings, reward frequent flyers, and capitalize on B2B opportunities, but more airline carriers are beginning to activate their deals in new, innovative ways.
With a general understanding of the sponsorship landscape, here is a quick look at how a few of the leading airline carriers are activating their partnership agreements across the globe: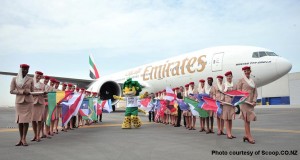 Emirates Airline
Emirates Airline leveraged its designation as an Official Sponsor of the 2010 World Cup and FIFA's only Official Travel partner by executing several programs on the ground, in the air, and across the globe. Emirates activated its partnership on the ground in Johannesburg by featuring a giant inflatable display mirroring the airline's A380 Airbus fleet that hosted a soccer kick challenge where consumers had an opportunity to compete against a virtual goalie to win prizes. The airline carrier leveraged its FIFA affiliation by providing team and association travel to and from the World Cup and treating several senior global media figures to an extraordinary FIFA World Cup experience. Emirates also extended its partnership rights to its flights and airport terminals, where passengers enjoyed exclusive broadcast rights of live and delayed World Cup matches while traveling.
Southwest Airlines
Southwest Airlines leverages partnership agreements in several select markets to drive affiliation awareness and acquire new customers. The airline carrier currently has several partnerships in place, including an official agreement with the National Basketball Association (NBA) and a collection of team deals.  Southwest Airlines recently brought its partnership with the Phoenix Suns of the NBA to life by executing a "Trading Places" promotion, where players, cheerleaders, and the Suns mascot  greeted travelers at the airport by taking boarding passes, making announcements, and interacting with consumers at the gate.
AirTran Airways
AirTran Airways has utilized auto racer Danica Patrick as a central figure in its sponsorship efforts. Over the past few years, AirTran has successfully leveraged a personal services agreement with Patrick to create several initiatives that engage consumers at the airport, trackside, and online. AirTran celebrated the start of the 2008 NASCAR season by featuring a team of Danica Patrick lookalikes, referred to as the Danica Patrick Pit Crew, working the airline ticket counter at Laguardia Airport in New York City. Here, the Pit Crew assisted travelers with their check-in process and ensured that they had a memorable airline experience. The airline brought its partnership to life for consumers at-track by executing a "Ride Shotgun with Danica" promotion that offered consumers an opportunity to win a trip to Miami where they could enjoy three days of VIP hospitaliy and take a ride with Danica in an Indy Racing Experience 2-Seater. From a digital standpoint, AirTran leverages its affiliation with Danica Patrick via an online video game, AirTranRaceway.com that rewards airline tickets to participants who log the fastest times competing against Danica while driving a luggage truck, people mover, catering truck, or stair car in a virtual race.
JetBlue Airways
JetBlue Airways celebrated its partnership with the Florida Panthers of the National Hockey League (NHL) by unveiling a 22.5' x 26' airplane tailfin just outside of the team's arena, the BankAtlantic Center. The giant tailfin, built off-site and transported in multiple pieces to the arena, serves as a gathering place for fans prior to games, concerts, and related events taking place at the venue. The area, known as "The JetBlue Tarmac", is now considered a common venue destination for fans. JetBlue also leverages its partnership with the Panthers with several joint marketing initiatives, highlighted by a promotion that offers free tickets to fans who wear blue on the airline's TrueBlue nights and to others who are willing sign up to become TrueBlue members.