MLS Uses Stadiums to Spur Growth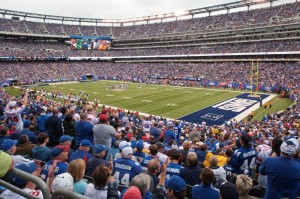 Today's guest post is from Christopher Lamberth. Chris is the Director of Sports Business Development for Kansas City, Missouri-based 360 Architecture, a national leader in sports & athletic facility design. Recent projects include the new home of MLS' San Jose Earthquakes, New Meadowlands Stadium (at right), Auburn Arena, BB&T Ballpark, and Basra Sports City.
It's fall in America.
The MLB postseason is in full swing. NFL and college football seasons are settling in. NHL and NBA seasons are beginning this month. Do you know what is going on in Major League Soccer (MLS)? Remember the World Cup?
Momentum for soccer awareness and support in the U.S. has certainly gained steam from this past summer's 2010 World Cup. The skeptical U.S. media and general populous were captivated by the relative success of the U.S. Men's team in South Africa as well as the charm, power and presence of various international teams and their colorful, expressive and loyal countryman.
We all watched some coverage or highlights even factoring in the time zone lapse almost half a world away. Friends posted comments, pictures and video from travels to the various venues around South Africa or just as commentary to the action from the broadcast. YouTube, Twitter and Facebook were blowing up with World Cup content. Surprisingly, many of us in the sports industry likely know at least one colleague that made a trip to Africa during the competition. My firm even had a delegation attend the finals match.
No doubt the American MLS stars featured on the U.S. Men's Team have become important ambassadors for MLS and their assorted teams. For those players and the whole league, their regular season is winding down and by late October will be staging the first leg of the playoffs.
MLS is the United States' first-division professional soccer league. Basically it's the top of the professional soccer hierarchy in the United States and Canada. The inaugural MLS season began in 1996 with 10 teams. In the past five years the league has expanded to 16 teams via relocation and expansion. On the horizon, expansion teams will play in 2011 in Portland and Vancouver, and in 2012 in Montreal.
The United States Soccer Federation (USSF) also has a 10-team, second-division league. What? Another league you say? Now, I did not grow up a soccer fan and I never played organized soccer as a kid or adult. Michael Hitchcock of Playbook Management International (PMI) is a 12+ year veteran of MLS. He rose from the ranks of several clubs beginning in the league's infancy before forming PMI, an international sports & entertainment consultant group. To help clarify the world of professional soccer in the states, Hitch shared, "the sport has developed to the point that we're close to having a true four-division professional league hierarchy with MLS as the 1st Division… This is great for the game in this country."
The USSF 2nd division league, whose championship series is set for the end of October, will continue as the NASL in 2011 and as the next-tier feeder to the MLS clubs. NASL, itself a reincarnation in name of the former North American Soccer League that dissolved in the mid-80's, is also inclusive of breakaway teams from the former United Soccer Leagues (USL) 1st Division.
As a sports architect, I have been to numerous sporting events and venues. However, it was not until 2007 that I saw my first professional soccer game in the stadium where Hitch was the GM. I was at Pizza Hut Park, on a warm, sunny Sunday with my two preschool-aged boys. The experience was electric and the place was packed with fans of all ages and walks of life. Drums were rhythmically pounding and cheering sections erupting. Although comparative to the international game and those premier leagues, this was likely a small, tame crowd. But it made an impact and I began to understand that the soccer revolution in the U.S. was already here.
What you may not realize is that going back to the first new soccer specific venue built in Columbus, Ohio in 1999, MLS has seen surprisingly rapid stadium development comparative to the four other major league professional sports here in the US. The trend for soccer specific or shared soccer/American football use is set to outpace the other venue types.
Many of you can tell me that since 2006 we have seen four new NFL stadiums open in Arizona, Indianapolis, Dallas and New York/New Jersey. There have been five new MLB stadiums for the Cardinals, Nationals, Yankees, Mets and Twins, and three new NBA/NHL Arenas in New Jersey, Pittsburgh and Orlando. Did you know that six new MLS stadiums have opened since 2006 in Chicago, Toronto, Colorado, Salt Lake City, New Jersey, Philadelphia? There are several more on the horizon.
Hitch adds, "Relative to venues; 2nd and 3rd Division teams are exploring soccer specific stadiums that will be used for other events to include concerts. Similar to the Minor League Baseball stadium boom, we're about to see that in Pro Soccer." That means even more potential new soccer venues. In turn, the influence of the game will help develop a few more fans, players and sponsors.
Soccer is here to stay. And I am telling you now, the revived rivalry in the Pacific Northwest coming to MLS in 2011 will create a few headlines. The Seattle Sounders are already doing it now. For those who have not been to a match, the game is very accessible as a spectator sport and more exciting in person. Check out a game on TV. Don't wait for the 2014 World Cup. Although the professional season is winding down in the states, here are a few events to keep an eye open for:
MLS Cup, November 21st, Toronto, Ontario, Canada at BMO Field.
College Cup, December 10th & 12th. University of California, Santa Barbara at Harder Stadium
ESPN will cover both finals matches live on ESPN and ESPN2 respectively.
Editor's note: Do you think MLS' mandate that new teams build soccer-specific stadiums directly correlates to the success of soccer in the U.S.? As a business strategy, how does this set MLS apart from other leagues (besides the MLB, NFL, NHL, or NBA) like Major League Lacrosse or the WNBA?