Lombardi and Social Media Marketing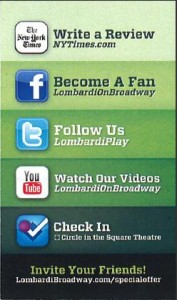 On Monday night, I had the chance to attend a preview showing of Lombardi, the new broadway play about the life of the great Packers coach Vince Lombardi. First off, the play was excellent across the board.  I thought all of the actors did an incredible job, especially Dan Lauria and his portrayal of Lombardi himself. The script did an excellent job is showcasing the dynamics between Lombardi, his family and his players. Finally, the show was in a quaint theater and performed "in the round" so there isn't a bad seat in the house. Any sports fan, especially a football fan, would enjoy seeing this show.
Now that I've hopefully peaked your interest in the show, I also want to commend the show's marketing department for a clever way of promoting the show via social media channels.  As everyone exited the show, ushers were handing out small "business cards" – check out the images on the right.
As you can see from the back of the card, the show has covered their social media bases.  All attendees are encourage to write their own review at NYTimes.com, become a fan of the show on Facebook, follow the show on Twitter, watch videos on YouTube and even check in on FourSquare.  Finally, there is a special offer link at the bottom to share with friends if they want to purchase discount tickets (please feel free to use the link to purchase your own tickets). I thought this was a great marketing tactic for the show to use. Word of mouth is a very important marketing channel for both sports and theater, so having a uniform presence on these social media outlets and making customers aware of all of them with simple, direct messaging should be quite effective for spreading the word.
Side Note: I wanted to take a moment to congratulate Joe Favorito. Joe is the author of the Sports Marketing and PR blog over at joefavorito.com, and he was an associate producer for Lombardi (I was excited when I saw him listed in the Playbill). Great work Joe!