The Sociology of Premium Seating and Venue Development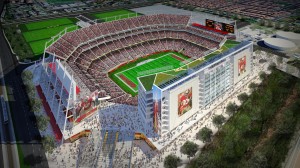 Today's post is courtesy of Jared Frank, Editor of SEAT Magazine, Association of Luxury Suite Directors.
Future new construction and renovation projects will be propelled by social interactions in a world of connected interactivity.
Redefinition. Fan experience. Flexibility. Sustainability. Technology. Speak with any architect at any of the top tier firms in the sports industry, and inquiring minds quickly figure out these are the driving forces of design in the 21st century. Not budgets or lack thereof, at least not exclusively. When presented with doubt, those who reciprocate with creativity rule the day. And the truth about constraints, financial or otherwise, is they are great for spurring imagination. So while no one can say with confidence what the next five or ten years will yield, it is clear the postmodern sports venue will not only survive, it will prevail. And it will prevail because its driving forces are inspired by social relations.
Human beings are social animals. That is not changing. Not in a bull market. Not in a bear market. No matter what variables are introduced, our nature remains a constant. Interfacing with new and existing friends and business associates is what drives us. And sports hospitality is still one of the best ways to satisfy this innate need for company. Maybe premium seating does not and should not only exist in the traditional form anymore, but it is still necessary in some form certainly.
Without question in this day and age, the way people interact is changing all the time and at a faster rate than we have ever seen. As people interact differently, they have different demands to meet people who have common interests, business and social. That realization provides tremendous opportunity to provide hospitality stages. In the end, social interaction is a major part of the opportunities for new revenues in sports facilities.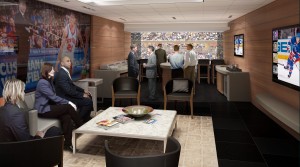 Elvis Has Left the Building
What has emerged in stadiums and arenas are neighborhoods within neighborhoods. Premium seats can no longer be classified as one area, such as other seating districts like upper concourse, mezzanine level or bleachers, but are now subdivided into many unique lots. This translates to increased market segmentation and to different sectors, such as specialized clubs or loge boxes or party suites.
Most of this change is in response to declining renewal rates. Teams must now adjust to what the market is telling them; a market that is not likely to come back in the foreseeable future, if ever. So the question is, "How are you going to capture any revenue if you have multiple events where your suites are not being sold?" One solution at present is to introduce new types of premium products into the marketplace.
Many new products to come online in recent years have performed quite well and have paid off initial investments in year one. To play devil's advocate, there is an objection that asks, "Well, where did that money come from? Are we just recycling existing money?" It is fair to say a team is not going to bring in all new customers to fill a new space and will see some redistribution of revenue.
But here's the selling point to remember: while the revenue generated by the reinvented space does largely come from upselling club seat patrons and downgrading suite holders, teams are driving higher revenue from both ends. In reference to relocation from club seats, those individuals are now linked to a higher priced commitment thus contribute higher revenues. That's the easy one. In reference to suite holders relocating, if they do downgrade from a suite to something like a loge box, it is not because a team has cannibalized its own inventory; it is because the suite holder can no longer afford the investment or no longer desires that type of social outlet and were not renewing anyway, but they still need suite-like amenities to fulfill their marketing and relationship building objectives. The alternative to downgrading is impersonating Elvis and leaving the building to seek other hospitality options more in tune with their social needs. And once a customer is gone, there is little to no chance for an encore.
Mid-priced premium inventory is one of the best solutions to keep existing customers who are waffling over their renewals. And keep in mind, zero multiplied by 15 non-renewed suite accounts equates to zero revenue. So teams can no longer only cater to the top tier. Because nowadays, just like the general fan base, the premium fan base is not just top tier.
Everything is connected
The future of venue development is still largely tied to premium seating and the goals of generating maximum revenue while having a facility that is as low maintenance as possible. And whether a team is looking to keep current with a new facility or renovations to its existing one, premium seating remains a driver of the architectural design aimed at meeting those goals. What has changed over the past 15 years is not solely economic conditions; more relevant is how the changes to technology, sustainable and flexible practices and fan expectations have changed the way society interacts. Capture a progressive staging that meets the social environmental expectations of fans, and capture the revenue to kindle a profitable organization.
Jared Frank is the editor of SEAT Magazine, published quarterly by the Association of Luxury Suite Directors (ALSD) and provided complimentary to all members of the ALSD. For more information on the ALSD, visit www.ALSD.com, or find the group on Facebook and LinkedIn. You can follow Jared on Twitter, connect with him on LinkedIn and reach him via email at jared@alsd.com.