SportsBiz Free Agent of the Week: Catherine Marzi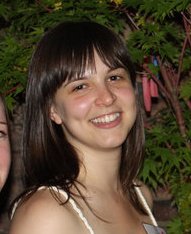 It's time for the SportsBiz Free Agent of the Week. Instead of featuring a top job posting, I like to feature a qualified industry professional who is looking for their next opportunity. If you are interested in being a future SportsBiz Free Agent of the Week, you can apply here.
Now it's time to introduce our next free agent, Catherine Marzi! Let's learn more about her.
UPDATE: Thanks to the Free Agent of the Week post, I have been able to participate in a great opportunity with the Langley Events Centre in Langley, British Columbia advising on Social Media and Digital Advertising strategy.
The Langley Events Centre is a brand new facility in a nearby suburb of Vancouver that is home to the Trinity Western University Spartansas well as the Langley Chiefs Junior A Hockey Club (BCHL). The LEC boasts a 5,500 capacity arena, three FIBA regulation sized basketball courts, an indoor walking track, a community fitness centre, and a Gymnastics facility. Not to mention they've got a 500 seat banquet hall and various meeting rooms available. All in all it's a sports nut's dream!
While I'm still looking for a full time opportunity, I've been able to put my passion for sports and advertising to work for a great, state-of-the-art sports venue. Check out some of the accounts I've been working on with the team at the Langley Events Centre. Shoot me a line at @CMMarzi if you're interested in hearing more!
Langley Events Centre on Twitter and Facebook.  Langley Chiefs Junior A Hockey Club on Twitter and Facebook.
—–
Goal: To find a position in Vancouver, BC that can utilize my cross-media experience and also expand my skill set.
Experience:
Associate Manager, NBA/WNBA on ESPN: Sports Marketing, New York, NY August 2009 – September 2010
Functioned as the primary day-to-day marketing contact to the NBA and WNBA leagues
Wrote creative briefs for the advertising agency to create annual regular season and postseason campaigns
Performed creative review on all media assets for the NBA on ESPN (TV, Print, Radio, Digital, OOH, Mobile, Social)
Managed the delivery of all media assets for the NBA on ESPN (TV, Print, Radio, Digital, OOH, Mobile, Social)
Liaised with all ESPN business units on the promotion of the NBA on ESPN (ESPN Programming, ESPN Production, ESPN.com, ESPN International, ESPNDeportes.com, ESPN America, ESPN UK)
Managed the NBA on ESPN RV Tour experiential campaign (highlights: increased focus on community, increased focus on youth segment, fostered sponsorship opportunities)
CRM Analyst, ESPN: Digital Marketing, New York, NY February 2008 – August 2009
Identified audiences for fan profiling using demographics and internet behavior to target email more effectively
Communicated email opportunities, including cross marketing prospects resulting in increased exposure
Determined targeting goals using fan demographics, product ownership and behavioral aspects resulting in higher performance for targeted groups
Identified opportunities for fan data collection and inclusion in FRM fan database, identifying high priority targets
Created email best practices presentation based industry standards, update regularly based on internal tests
Marketing Assistant, Mediamark Research Inc., New York, NY September 2006 – February 2008
Analyzed data pulls for press releases, clients and media outlets
Brainstormed, wrote, proofread and edited promotional documents and press releases
Managed marketing promotional materials, created reorganized resource center
Managed www.mediamark.com website content, updates and feedback
Worked with and supported sales staff
Education:  B.A., Fairfield University, May 2006
Gerard Manley Hopkins Award for Creative Writing, 2006
School of Arts and Science Award in Creative Writing, 2003
Most Recent Greatest Accomplishment: This season we planned for a 2 day commercial shoot for the NBA on ESPN. At the last minute, we found financing to do a third day. In 7 business days I helped pull together a full extra day of shooting, booking athletes and rearranging our ESPN talent to cover the extra spots. The shoot was a success and everything went smoothly. All this was being done while juggling approvals for 3 different creative versions of ad banners, three different Facebook applications, and delivery of marketing assets to the ESPN Affiliate division that deals with the relationship with cable affiliates. To check out pictures from the shoot, see here: http://ow.ly/2JrQj.
Sell Yourself in 3 Sentences or Less: I'm focused, motivated and a quick learner. I have experience in every kind of media a marketer could need to produce and I also understand that a large part of a marketers job is relationship building. I love sports, advertising, networking and above all else, learning.
You can connect with Catherine through LinkedIn (http://www.linkedin.com/in/catherinemarzi), on Twitter (@CMarzi84) or via email at catherinemarzi@gmail.com. If you have an open opportunity with your organization or know of another company that can benefit from Catherine's experience, please reach out to her. I want to see this weekly feature really help some great people places into the industry positions they deserve.
Previous Free Agents of the Week: