Creative Campaigns from Philadelphia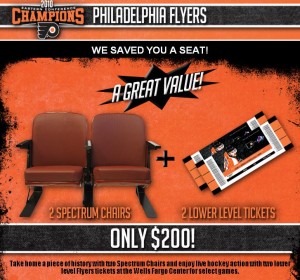 The sports business folks down in Philadelphia have been coming up with some creative marketing campaigns lately (and hopefully if anyone from that area is reading this, they're going to come to our Philadelphia Networking Event on Thursday night – details and RSVP here!).
Take a look at these two recent Philly team promotions:
Philadelphia Flyers – "We Saved You A Seat"
The Flyers have put together a special $200 package that includes two lower level tickets and two actual seats from the Spectrum (the team's old venue, which will be torn down this year).
First off, I like the "We Saved You A Seat" title – very clever messaging that fits both halves of the offer. Secondly, the teams recognized they have a unique opportunity with the closing of the Spectrum, so rather than selling them separately, they can positively impact two revenue streams by packaging them together.  For any long-time Flyers fan, this offer has a lot value to it.
Philadelphia 76ers – "See Your Name on a Billboard"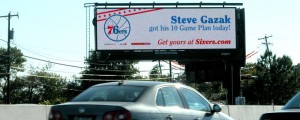 Any customer that purchases a 10 game pack for this season can have their name appear on the Sixers' LED billboards.  This in itself doesn't provide a lot of incentive to purchase, but there is a "cool" factor that can help push a potential buyer into taking the plunge. In addition, they make sure that anyone who take part in this promotion receives a picture of "their billboard" through the Sixers' Facebook page, which then makes the photo easy to share and create some viral marketing noise. Finally, this campaign can actually make the team's billboards more effective. Fans driving past will see the names of actual buyers, which can in turn make the idea of buying a 10 game package more realistic to them.
What do you think of these campaigns?