Using Venues in Creative Ways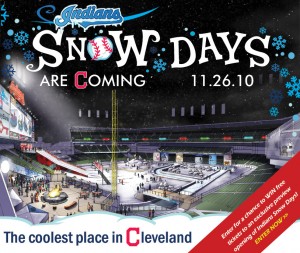 A constant challenge that faces teams and venue owners is how to generate revenue from your building once your season has passed. The company has this valuable entertainment asset, but without events to host, it can sit dormant for weeks or even months at a time (outside of the occasional stadium tours, which can provide a small incremental revenue bump).  This isn't as much of a problem for indoor arenas and weather-independent (i.e. domed) buildings, where you can always bring in concerts, family shows and other traveling entertainment groups. But what about a baseball stadium in the middle of winter? What can you do with that?
Well, the Indians have decided to take a very creative approach to this dilemma with their "Indians Snow Days" program. They are literally turning Progressive Field into a winter theme park. According to today's news release, they will have a snow-tubing hill, a quarter-mile ice skating track, a kids' skating rink, a snow play area, and a fire-pit area featuring seasonal food and drink options – a veritable winter wonderland on a baseball field. Their "snowpening day" is November 26, and it will be open through at least January 2.
From Bob DiBiasio, the Indians' VP of Public Relations:
"No question, this whole thing is based on how can we make ultimate use of this facility for 12 months, not just six months. We've done that indoors. Now, we're taking one more major step outdoors."
Now this particular strategy won't work for all teams and venues, but this is still a great example of an organization coming up with creative ways to make their facility a year-round, revenue-generating, fan-friendly destination.