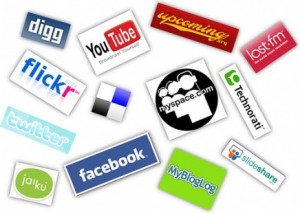 Jason Peck had a great idea for a series of blog posts based around "Why We Should Care" about social media. The "We" refers to everyone from fans to teams to athletes to agencies and more. I was very pleased that Jason asked me to contribute to this series, and you should visit his site (www.jasonfpeck.com) to read what all of his great contributors had to say. In the meantime, here are some of my opinions on the subject.
Why Fans Should Care – Fans are always looking for ways to interact with their team and feel a deeper connection to the teams and players that they live and die for. Social media can give the fans a new level personal interaction that they are looking for. In addition, as most teams increase their own social media presence, these tools can be used to share opinions and feedback that can eventually lead to a better fan experience.
Why Teams Should Care – Teams should care because fans care. Their most active, passionate and vocal advocates are participating in the social media landscape, regardless of whether the teams are there or not. So really, teams have two options: ignore the conversation and stick to old-fashioned, one-way marketing, or join the conversation and engage with their fans. I think the answer here is obvious.
Why Athletes Should Care – In the age of free agency and big contracts, the most important thing that a player has outside of their contract is their brand. They need to care about social media because it gives them a direct-to-consumer communication channel that has more influence over their brand image than any jersey or team logo does. Because of the power that this medium has, players need to have a great balance of being genuine and being self-aware.  They should let that fun personality shine through while remembering that once they click "Submit", there's no going back. They need to better understand the pros and cons of the instantaneous nature of social media.
Why Agents Should Care – Agents should care for the same reason that athletes need to care. If an agent is going to best represent their client's interests, they need to be just as aware, if not more aware of the impact that social media has on their client's brand. How their clients interact with fans on social media can affect everything from player contract negotiations to maximizing the athlete's endorsement and marketing opportunities.
Why Colleges Should Care – College should care for the same reasons as teams, with the added focus that one of their key audiences, their students, are some of the most active and ultimately influential social media users out there. Even if they don't currently represent the same monetary value of alumni and donors, the student of today become the donors of tomorrow, so social media can help build an even deeper loyalty and affinity now while they are in school.
Why Agencies Should Care – Agencies should care because social media needs to be a part of any company's marketing mix, and this includes the events and properties that they represent. Their corporate clients are ultimately looking to increase revenue and improve their brand value, and actively engaging the fans through their sponsorships is an important part of that process. Outside of the actual gameday experience, social media is the most "active" and engaging communication option they can leverage.