September Networking Events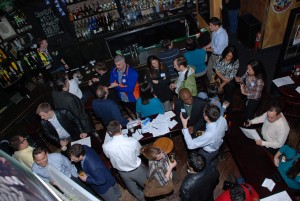 September is a great month to connect with your fellow sports business peers.  Following up on another successful New York networking event, we have THREE more events scheduled for this month:
Atlanta – Tuesday, September 7 from 5:30 to 8:00 PM at Buckhead Bottle Bar (268 E Paces Ferry Road)
Phoenix – Thursday, September 16 from 5:30 to 8:00 PM at Macayo's Depot Cantina (300 South Ash Avenue, Tempe)
Philadelphia – Thursday, September 30 from 6:30 to 9:30 PM at The Field House (1150 Filbert Street)
Click on one of the links above for full event details and to RSVP.
In addition, Pat Coyle has two upcoming Sports 2.0 Summits. According to his site, "These events are built for executives working in the digital, sports and media business. We cover a broad spectrum of topics from digital strategy, to social media to mobile, always honing in on the most practical ways to drive fan engagement and revenue." I've heard great things about these summits. The first one is September 21 in San Francisco and the other is October 21 in Atlanta.  The registration fee is $250, but if you follow @sports20 on Twitter, you may stumble upon the occasional discount or ticket giveaway.
That's five more ways to learn, build your network and advance your career. If you're near one of these locations, I hope you can attend, and please pass the word along to your friends and colleagues. Thanks!