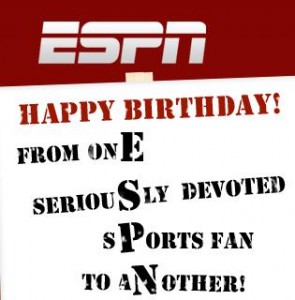 Earlier this week, I celebrated one of those larger, round-numbered birthdays (hint – I'm officially "old" now). As expected, I received a few email birthday wishes from the various team and league newsletters that I've opted to receive, which is always a nice touch. A birthday email program is easy to operate and can create a very nice touchpoint between your company and the customer at minimal cost.
Some birthday emails are just that – a simple happy birthday message with no added value. These can deliver a quick smile, but probably get discarded with a fast click of the delete button. In my opinion, sending an email without some form of a "call-to-action" is a lost opportunity. If you get your fans or customers to open the email, there should be some available action to further engage the fan. This doesn't always need to be a sale-related action either. How about creating a "Happy Birthday" video that they can click and watch. You can even get fancy and integrate their name into the video message, a popular trend with e-marketing initiatives.
Other emails I received had promo codes for either a ticket or merchandise offer, as a way to "treat myself" on my birthday. This can be a very effective tactic, providing value to the customer and incremental sales to the organization. However, if you take this approach, you really need to position the offer well so that it comes across more as a gift than a sales pitch. Make sure the discount is substantial enough to matter (5 to 10% off doesn't feel like much of a gift to me), and start with the "Happy Birthday" message before you encourage them to make a purchase.
Finally, you can take the approach that ESPN did and provide a low-cost, free gift. The email they sent offered a free ringtone download of the ESPN SportsCenter jingle. With this approach, I'm not spending a dollar, I can get something of value (ringtones normally cost $1-2) and if I really am a fan of ESPN (which I am), this is a pretty cool little treat. Plus, ESPN gets extra exposure every time someone downloads and starts using their free ringtone. Companies can try this tactic with ringtones, highlight videos, screensavers, iPhone or Blackberry apps and more.