Fantasy Football Means Dollar Signs for NFL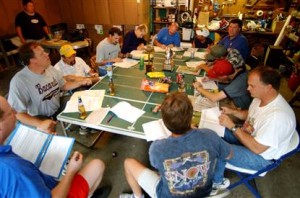 Fantasy Football is here, hallelujah! I'm playing in two leagues this year (both all females) and the first of my two fantasy league drafts took place this past Sunday. Before we were accepted into the league, we had to agree to post at least three times a week on the message board, talk trash, and not be offended by anything anyone else might write. Um, ok! Sign me up!
Last year my team was pitiful… 3-10-0 and 11th out of 12 teams to be exact. I'm feeling a lot more confident this year, especially with Peyton Manning as my quarterback, Randy Moss at wide receiver, and the Ravens defense/special teams.  It's estimated over $435 million is lost by businesses whose employees play fantasy football. I'll do my best not to take time out of work to set my team, do research, or trash-talk.
Fantasy football is an amazing boon to both the NFL and the media outlets that cover the league. Countless hours are spent on web sites (with appropriate ads across the top, sides and bottom of pages), and reading sports magazines, trying to figure out who to draft and start for your team. Also, I'd guess that with each fantasy league team 'owned,' a person's overall viewership of NFL games increases. Fantasy football has a way of making games that your favorite team isn't playing in more interesting. Also, if your favorite team is having a down year (like my Buffalo Bills are almost assured of), there is still a reason to pay attention to the NFL.
All that means increased interest in the NFL, which means more television ads can be sold during their games, more people buy the 'Sunday Ticket,' and more channels can be created to exploit that interest (NFL Red Zone anyone?). That revenue flows straight into the NFL coffers and simultaneously creates more avid, engaged fans. Us marketers know that having avid, engaged fans makes you a more attractive target for potential sponsors.
What other ways do you think fantasy leagues have affected sports business? What is the best 'real-world' promotion you've seen that incorporates fantasy football? Who's the best player on your fantasy team?