Tennis, Fashion, Technology and More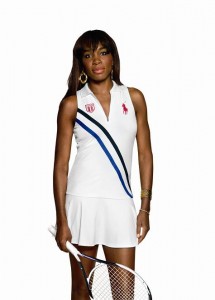 I don't write much about tennis here, so when a friend of mine sent me a press release about a tennis partnership that combines a major sporting event (US Open), a top athlete (Venus Williams), cool technology (a virtual interactive clinic), a top fashion line (Polo Ralph Lauren), a premium sponsor (Mercedes-Benz) and fundraising (Women's Sports Foundation), I thought I would share some of the release with you. This is the type of partnership-driven event that really creates value for every party and brand involved, from the sponsors to the consumers.
POLO RALPH LAUREN PRESENTS THE LEGENDS CLINIC FEATURING VENUS WILLIAMS
In celebration of its sixth year as the Official Apparel Sponsor of the US Open Tennis Championships, Polo Ralph Lauren presents the Legends Clinic with Venus Williams, a live interactive virtual tennis clinic produced in partnership with Mercedes-Benz at New York's SPORTIME Tennis Center on Randall's Island on August 26 at 2:00PM EST. Tennis enthusiasts around the world will tune in as seven-time Grand Slam Champion Venus Williams answers questions, demonstrates technique and offers hints and tips on how to improve your game during this live one-hour interactive clinic. The clinic will reach a global audience as it will be streamed live online exclusively at RalphLauren.com and accessible on mobile devices at m.ralphlauren.com/USOpen.
"The Legends Clinic is ground-breaking. This is a dynamic way of connecting fashion, technology and sports in a way that has never been done before," said David Lauren, Senior Vice President of Advertising, Marketing and Corporate Communications. "We are providing our customers around the world a unique experience to personally connect with one of the world's premier tennis legends while she is engaged in her sport."
Ralph Lauren will design a limited-edition dress in partnership with Eleven to be worn by Venus Williams during the Legends Clinic as well as a special limited-edition US Open polo shirt to accompany the collection. Both the Ralph Lauren designed limited-edition dress and polo shirt will be available on-site at the US Open Polo Ralph Lauren shop and online at RalphLauren.com. Additionally, the limited-edition US Open polo shirt will be exclusively available at Macy's Herald Square in New York. Fifteen percent of sales will be donated to the Women's Sports Foundation, dedicated to advancing the lives of girls and women through sport and physical activity.
"It is truly exciting to partner with Polo Ralph Lauren in this unique endeavor and to bring my professional expertise and personal experiences to tennis fans around the world," said Venus Williams.
The Ralph Lauren US Open collection is available on-site at the US Open Polo Ralph Lauren shop open for the duration of the tournament. The store also features a wide selection of items such as tote bags, tennis dresses, skirts, sweaters, commemorative caps, classic Polo shirts for men and women. The collection will also be available at select Ralph Lauren stores, department stores and online at Ralphlauren.com.
As part of the Legends Clinic, Mercedes-Benz, the official vehicle of the US Open Tennis Championship and presenting sponsor of the Men's Single Championship, will highlight its new SLS AMG supercar that draws inspiration from the 1954 300SL Gullwing, a legendary car known for its iconic style and innovation.
This announcement reinforces Polo Ralph Lauren's leadership in major sporting initiatives. The company also serves as the Official Outfitter of the Wimbledon Championships and will be the Proud Outfitter for the US Olympic and Paralympic Teams at the London 2012 Olympic Games. Polo Ralph Lauren also sponsors an elite roster of professional golfers, as well as the Blackwatch Polo Team.