SportsBiz Free Agent of the Week: Brendan Wilhide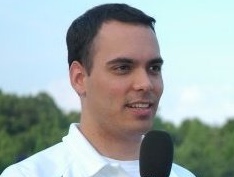 It's time for the SportsBiz Free Agent of the Week. Instead of featuring a top job posting, I like to feature a qualified industry professional who is looking for their next opportunity. If you are interested in being a future SportsBiz Free Agent of the Week, you can apply here.
Now it's time to introduce our next free agent, Brendan Wilhide! Let's learn more about him.
Goal: My goal is to represent and assist in the growth of a major brand in social media.
Experience:
Sportsin140.com, 2009-Present

Maintain working relationships with the NFL, NHL, PGA Tour and other organizations to authenticate, publicize and study their social media presence
Interview sports industry leaders about how their organizations use social media and the future of social media in sports
Independently validate athletes on Twitter
Work featured on ESPN's "Outside the Lines," on Sports Illustrated's website and in the Wall Street Journal, Boston Globe and Toronto Globe and Mail

Contributing writer for Macworld.com, 2009-Present

Review iPhone applications, especially sports applications and interact with app developers, especially to learn how sports apps integrate with existing social media strategies

Public Relations Coordinator for Ripken Baseball, 2006-2007

Wrote and edited press releases, game notes, game recaps and feature content for game day program, team website and press materials
Served as liaison and primary contact for all team related media inquiries
Helped plan and implement the 2006 New York-Penn League All-Star Game at Ripken Stadium
Education:  I graduated cum laude with a Bachelor's Degree in Professional Writing and a concentration in Sports Management from York College of Pennsylvania in May, 2005. While attending York I worked in the Sports Information Office for four years and served as sports editor of the college newspaper for one year.
Greatest Accomplishments: My greatest professional accomplishment has been Sportsin140.com. I launched the site in March, 2009. It began as an idea I had in the middle of the night and grew from there. In the last year and a half my work covering sports and social media has been featured on ESPN's "Outside the Lines," on Sports Illustrated's website and in the Wall Street Journal, Boston Globe and Toronto Globe and Mail. I have built relationships with major leagues like the NFL and NHL and the PGA Tour through my work on my site. I interact with these leagues on a frequent basis to confirm official social media accounts, publicize social media efforts and occasionally provide suggestions for improving social media strategy. It is a true labor of love for me and combines my passion for sports and social media. I view the site has my greatest accomplishment because I took it from an idea I had to a nationally recognized resource on social media in the sports industry.
Sell Yourself in 3 Sentences or Less: I'm a self starter with a passion for sports and social media, as evidenced by my work in developing Sportsin140.com, a site my colleagues in the industry have called an "indispensable resource" and "ahead of the curve." My public relations and journalism background allow me to integrate traditional public relations strategies in social media and other emerging media. I'd love to connect with anyone interested in social media and further explain how I'm the right person to help grow your brand via social media.
You can connect with Brendan at Sportsin140.com, on Twitter (@brendanwilhide), through his LinkedIn page or by email at bwilhide@gmail.com. If you have an open opportunity with your organization or know of another company that can benefit from Brendan's experience, please reach out to him. I want to see this weekly feature really help some great people places into the industry positions they deserve.
Previous Free Agents of the Week: