A Direct Mail Mixed Review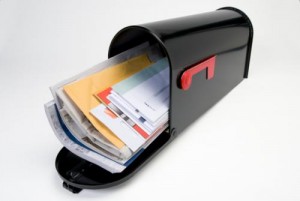 When I checked my mailbox yesterday, I saw that I had received a direct mail piece from a professional sports team, advertising their 2010 ticket packages. There were some very nice aspects to this mailing, and unfortunately, two problems that could have been avoided. The name of the team has been removed to protect the innocent.
First, here is what I liked:
Nice-sized, quad-fold piece, but not too bulky (keeps printing/mailing costs reasonable)
Full color with attention grabbing photos
Two calls to action right on the outside: "Free Poster Inside!" and a text-to-win free season tickets contest (great opt-in offer)
Highlights the website right on the front and shows multiple low-price ticket options (important for a bulk mailer when you're probably dealing with mixed-quality leads)
Inside page shows feature lists for general seating, luxury seating, group seating and their free fan club (another nice opt-in)
A good quality, decent-sized poster of a top, young player with the team's schedule when the mailer is completely unfolded
Now, here are the two big problems with the mailer:
1.  As good a job as the piece did in featuring the website and opt-in programs, the phone number for the ticket office was only printed once, on the inside, and not in particularly large print. Most significant sports tickets purchases still take place over the phone with your sales staff, so this needs to be featured much more prominently. In fact, I would have included the phone number and website on the bottom of the poster itself to increase the chance for multiple views.
2.  The biggest problem with this piece is… I live over 1,000 miles away from where this team plays! Now, this is a bit misleading, as I did sign up for this team's email club (I'm signed up for a LOT of teams' emails so I can see what strategies teams use). However, this is the only team from outside my local market that sent me a mailer, probably because its very ineffective to spend money on direct mail for anyone outside your local radius. Now, if I had been a member of the email club AND previously purchased tickets, it would be a different story. Then I might look like an out-of-market fan who still comes back for games. But I have never purchased a ticket from this team, so there really is no reason to send this to me.
From other examples I've seen, almost 40% of fans that join an email newsletter or online fan-club live outside of that team's local market. It's a great way for fans to stay connected to their team when they have to travel or move. Because of that, teams need to be more selective on how they use these programs to try and sell tickets. It's much easier to sell a jersey to fans who live thousands of miles away than it is to sell them season tickets!